Community Liaison Division
Alert
Property releases will be done by appointment only. To schedule an appointment, call (714) 741-5784.
Vehicle releases have resumed in person. For information, call (714) 741-5710.
Residents who require non-emergency assistance may call (714) 741-5704. For emergencies, please call 9-1-1.
Officers will continue to respond to calls for service, but some reports will be handled by telephone to limit in-person contact.
For a list of all City modified services, visit https://ggcity.org/modified-services.
The mission of the Garden Grove Police Department's Community Liaison Division is to build a partnership between the police department and our residents to improve the quality and safety of our community.
To achieve this, our division offers different types of crime prevention programs to engage community members in learning strategies - such as:
School Programs
Child Safety

Car seat inspections, water safety, etc.

Traffic Safety

Pedestrian and bicycle safety

Substance Abuse Education and Prevention
Current Events
Safe Halloween Event
Wednesday, October 27, 2021
4 PM - 6 PM
Grass Area of Morningside Dr. & Ward St.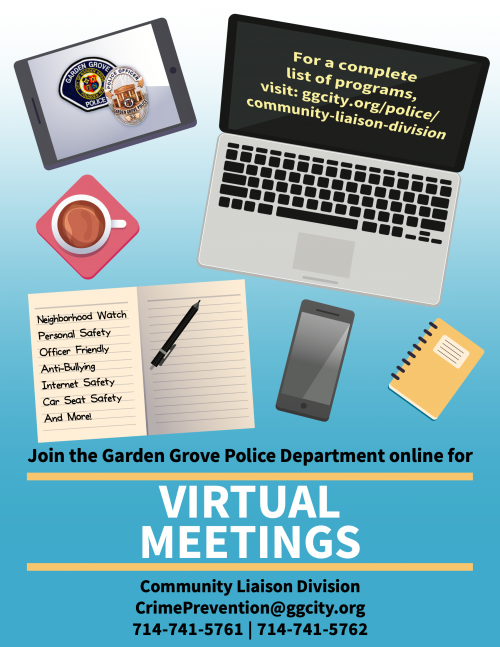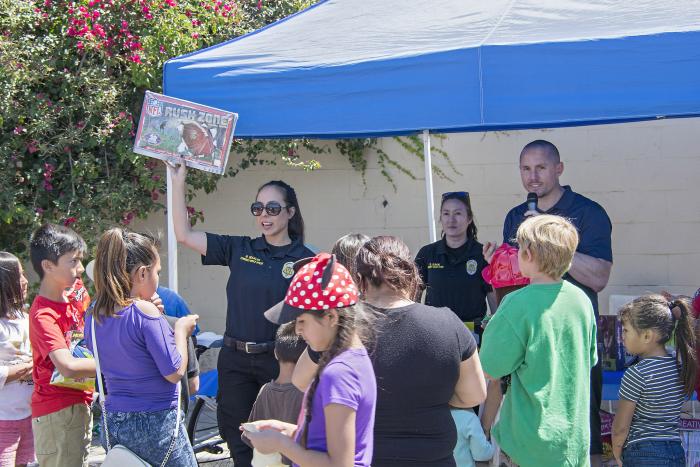 The division consists of Crime Prevention Officers who are liaisons between the police department and the community by providing a personal point of contact. We are available to answer questions, refer the general public to local resources, and educate the public on how to prevent crime in the community. Crime prevention resources are tools to keep you safe.
Together we CAN and DO make a difference!
Garden Grove's National Night Out 2020
The Garden Grove Police Department invites you to a safe, socially distanced National Night Out 2020. Join us as we introduce you to some of our officers and specialized units within the GGPD. We hope you and your families are healthy and safe, and we look forward to seeing you this August at National Night Out 2021.