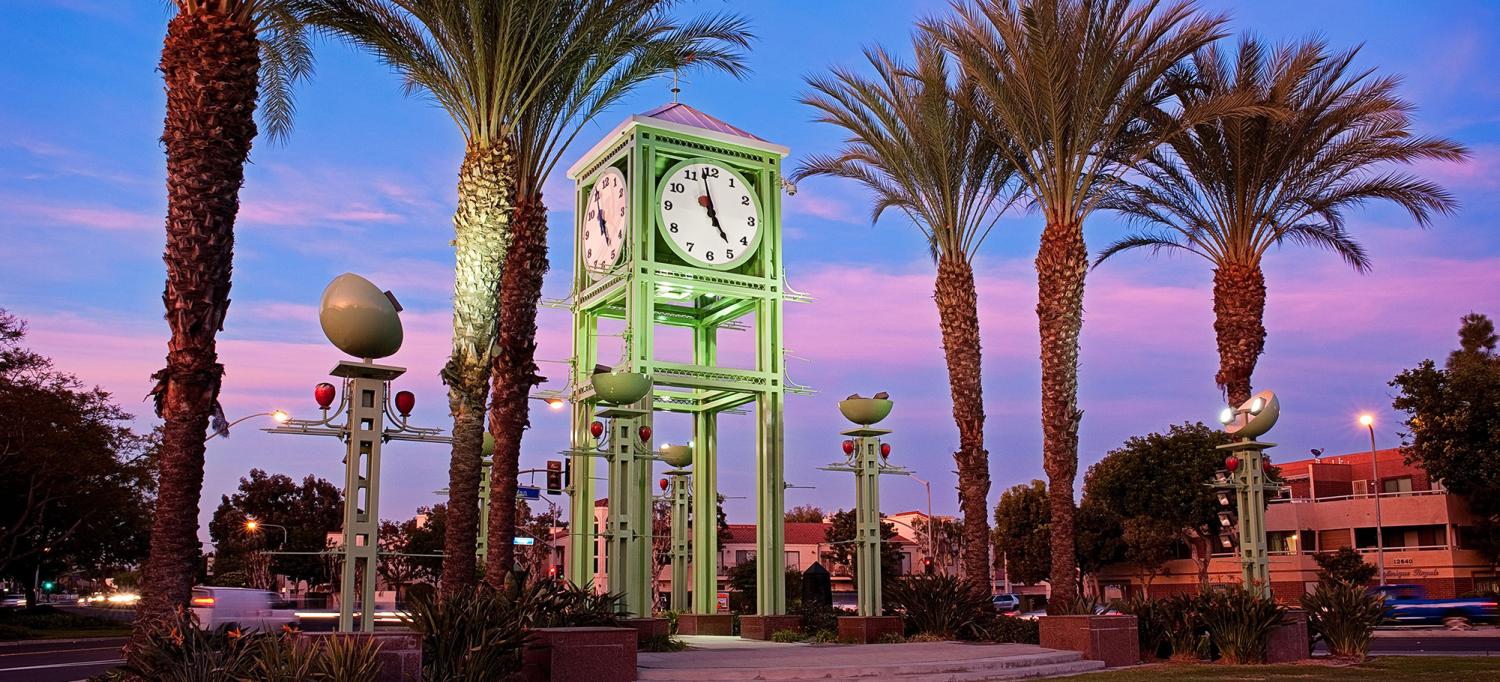 We hope this media kit will be of assistance to our media partners in creating engaging stories for the City of Garden Grove. For additional information, please view the City's fact sheet.
For inquiries, please contact the Office of Community Relations at communityrelations@ggcity.org or (714) 741-5280.
About Garden Grove
Centrally located in beautiful Orange County, California, Garden Grove is known for its vibrant diversity, deep hometown spirit, and progressive vision for the future.
Bordering the Disneyland Resort and its world-renowned attractions, the city's Grove District-Anaheim Resort offers brand name hotels, restaurants, and the popular Great Wolf Lodge Southern California water park resort.
The city is also home to the bustling Little Saigon and OC Koreatown commercial districts, and the center of the Archdiocese of Orange—the Christ Cathedral.
Only 20 minutes from Southern California's most scenic beaches, Garden Grove offers convenient commuter access to Los Angeles and San Diego via the SR-22 Garden Grove Freeway.
The Garden Grove Strawberry Festival is the city's largest and most iconic community event. Since 1958, the festival has been held annually over the four-day Memorial Day weekend in May, attracting over 100,000 visitors to the city's oldest park, the Village Green.
The City's Re:Imagine Garden Grove vision is to reimagine itself as a place that invites all people to celebrate our community's uniqueness, progressiveness, and hometown feel.
Food Culture
Garden Grove is home to a number of award-winning restaurants, including Michelin Guide honorees, showcasing cuisines from around the world.
Tourism
Located just one mile from the Disneyland Resort, the Grove District Anaheim Resort is Southern California's premier tourist destination. It is comprised of 11 world-class hotels, including the Great Wolf Lodge Southern California waterpark resort. The Grove District offers more than 3,500 hotel rooms and over 170,000 square feet of event space, along with several recognized restaurants, and proximity to shopping centers and major entertainment and sports venues.
The Grove District Anaheim Resort provides easy access to the most popular Southern California attractions including the Disneyland Resort, Knott's Berry Farm, Universal Studios, Sea World, San Diego Zoo, Big Bear Lake, and miles of sun-filled beaches.
Upcoming Development Projects
Le Méridien by Marriott and one of the largest Kimpton Hotels in the nation will occupy a 4.3-acre site in the Grove District on Harbor Boulevard.
The Nickelodeon Resort project will occupy a 3.72 acre site on Harbor Boulevard and include 500 guest suites, a lazy river pool, Nick arcade and studio, and more.
Located in OC Koreatown, Brookhurst Place is Garden Grove's largest residential and commercial mixed-use development. Phase II, now underway, will offer 120 new apartment homes, residential amenities, and retail locations.
Cottage Industries is an innovative project in the Garden Grove Civic Center that will feature unique eateries and shops within repurposed Craftsman homes.
Click here for current investment opportunities.
Accessibility
Ports
24 miles from the Port of Los Angeles and the Port of Long Beach
Rail
Southern Pacific, AMTRAK stations in neighboring cities of Anaheim, Fullerton, and Santa Ana. Future
OC Streetcar
.
Air
Ten miles to Orange County (John Wayne) Airport, 20 miles to the Los Angeles International Airport (LAX), eight miles to Long Beach Airport.
Bus
Orange County Transit Authority and Metropolitan Transportation Authority
Freeway
State Route 22 (Garden Grove Freeway), Interstate 5 (Santa Ana Freeway), Interstate 405 (San Diego Freeway), State Route 39 (Beach Blvd.)
Education
The Garden Grove Unified School District (GGUSD) is the third largest school district in Orange County. It serves most of Garden Grove and portions of six surrounding cities in Anaheim, Cypress, Fountain Valley, Santa Ana, and Westminster.
The GGUSD is a leader in college and career readiness with students meeting rigorous college entrance exams. Every year, GGUSD schools, students, and educators receive high ranking awards and recognitions from public and private organizations.
(48) Preschool & Elementary Schools
(10) Intermediate Schools
(8) High Schools
(2) Special Education
(2) Elementary Dual Language Immersion Academies
(1) Adult Education
(1) Career Technical Education
History
A businessman named Abel Stearns bought large tracts of land in Southern California in 1868 and divided some of it into smaller lots to sell to settlers. In 1874, Dr. Alonzo Cook purchased 160 acres of land in the area for about $15 an acre. Recognized as Garden Grove's founding father, he later donated land north of Main Street and Garden Grove Boulevard for use as the site of the first schoolhouse and post office. Cook suggested the name "Garden Grove" for the school and surrounding village.
Official City Symbols
---
Official City of Garden Grove Motto: The City of Youth and Ambition
---
Official City of Garden Grove Flower: Orange Tropicana Rose
---
Official City of Garden Grove Tree: Flame Coral
---
Garden Grove Maps
Video
Garden Grove is the Center of Everything
Photos