Alert
Property releases will be done by appointment only. To schedule an appointment, call (714) 741-5784.
Vehicle releases have resumed in person. For information, call (714) 741-5710.
Residents who require non-emergency assistance may call (714) 741-5704. For emergencies, please call 9-1-1.
Officers will continue to respond to calls for service, but some reports will be handled by telephone to limit in-person contact.
For a list of all City modified services, visit https://ggcity.org/modified-services.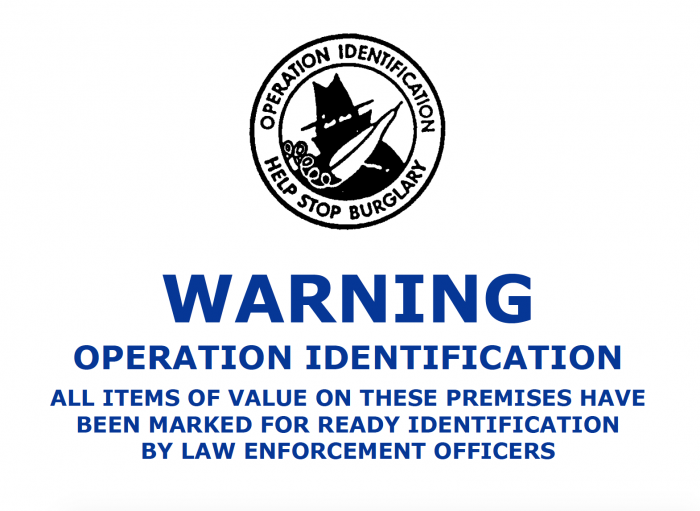 Operation Identification is a program that allows you to etch a driver's license number or identification card number on valuables in your home or business. Participants of Operation Identification will be loaned an etching tool and given window stickers to warn that valuables have been marked and are ready to be identified by law enforcement.
What should you mark?
All items of value including:
Furniture
Jewelry
Office equipment
Appliances
Electronics (laptops, tablets, phones, TVs)
Musical instruments
Power tools
Construction/lawn equipment
Vehicle accessories
Any other items you value
Once valuables are marked, keep an inventory list for your record in a safe place, filed with other important documents.
Personal Property Inventory List
Why is a driver's license or identification card number preferred?
A driver's license or identification card number can be accessed through the California Law Enforcement Telecommunications System (CLETS) that allows law enforcement agencies to obtain the name and address of the individual tied to a specific driver's license or identification card. Federal restrictions prevent the use of Social Security numbers to trace an individual.
Stolen items reported to law enforcement are entered into CLETS Automated Property System allowing other law enforcement agencies to return recovered property to the rightful owner.
To participate in Operation Identification, call the Community Liaison Division at (714) 741-5761 or (714) 741-5762 or via email at CrimePrevention@ggcity.org.