Alert
Please visit
https://ggcity.org/coronavirus/modified-public-counter-services
, for a list of modified services.
To inquire about repairs, operations, engineering and sanitation services, call (714) 741-5395 or email publicworks@ggcity.org.
Water bill payments can be made:
Over the phone: (888) 867-2992
Online: https://ggcity.org/water
Pay by mail
Drop off check or money order payment in the drop box in the front of City Hall
To inquire about your water bill, start or stop water services, call (714) 741-5078 or visit ggcity.org/finance/water-billing
Drought Tolerant Demonstration Gardens at City Regional Library and Municipal Service Center
As we face a devastating consecutive year drought and environmental court rulings impacting local water supply, the City's Public Work's Department is responding by creating a two demonstration gardens, located at the City Regional Library on 11200 Stanford Avenue and at the Municipal Service Center on 13802 Newhope Street and, to promote southwestern natives and California friendly plants. This garden is a unique educational resource that features an array of native and drought tolerant plants. There is a large water savings potential in landscaping, with more than half of residential water usage applied to outdoor landscape. By planting native and California friendly plants, you can save lots of water and maintain a beautiful, colorful garden! An additional benefit of having a California friendly garden includes the attraction of essential wildlife, such as beneficial insects, pollinators and native birds. The City was awarded partial funding to complete the demonstration garden from the Metropolitan Water District of Southern California through its Community Partnering Program.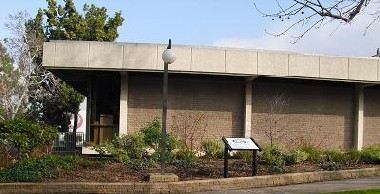 The following plants are displayed at the City's Regional Library. For detailed information on each plant, click on the common name.
Plant
Sign Botanical Name Common Name
No.

1 Salvia greggii Autumn Sage
2 Arctostaphylos edmundsi Carmel Sur
3 Arctostaphylos
'Pacific Mist' Pacific Mist Manzanita
4 Aesculus californica California Buckeye
5 Cercis canadensis Eastern Redbud
6 Cornus florida Flowering Dogwood
7 Muhlenbergia rigens Deer Grass
8 Festuca californica California Fescue
9 Platanus racemosa California Sycamore
10 Juncus patens California Gray Rush
11 Salvia apiana White Sage
12 Salix exigua Narrowleaf Willow
13 Salvia leucantha Mexican Bush Sage
14 Trichostema lanatum Woolly Blue Curls
15 Penstemon palmeri Beard Tongue
16 Juncus effusus pac.
'Quartz Creek' Quartz Creek Rush
17 Mahonia
'Golden Abundance' Mahonia
18 Ribes viburnifolium Evergreen Currant
19 Baccharis pilularis
'Pigeon Point' Coyote Bush
20 Fremontodendron
californicum Flannel Bush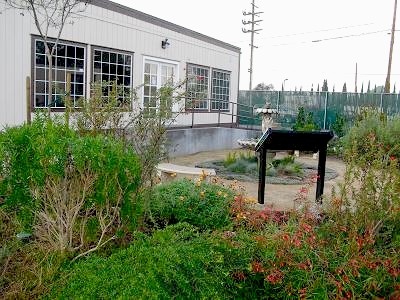 The following plants are displayed at the Municipal Service Center. For detailed information on each plant, click on the common name.
Plant
Sign Botanical Name Common Name
No.
1 Ceanothus 'Dark Star'
California Lilac
2 Arctostaphylos 'Sunset'
Sunset Manzanita
3 Salvia leucantha
Mexican Bush Sage
4 Artemisia pycnocephala
Dwarf Coastal Strand
'David's Choice'
Wormwood/Sandhill Sage
5 Zauschneria californica
California Fuchsia
6 Eriogonum crocatum
Conejo Buckwheat
7 Cercis occidentails
Western Redbud
8 Hesperaloe parviflora
Red Yucca
9 Calliandra californica
Baja Fairy Duster
10 Salvia clevelandii
Cleveland Sage
11 Artostaphylos
refugioensis
Refugio Manzanita
12 Rhamnus californica
'Mound San Bruno'
Coffeeberry Selection
13 Echium fastuosum
Pride of Madeira
14 Erigonum fasciculatum
California Buckwheat
15 Caesalpinia gilliessi
Yellow Bird Of Paradise Bush
16 Vitis californica
California Grape
17 Mahonia aquifolium
Oregon Grape
18 Juncus patens
California Gray Rush
19 Mimulus aurantiacus Sticky Monkey Flower
20 Tecoma x Orange Jubilee
Search for all other native and California friendly plants by type and characteristics not listed above.

Disclaimer: Please be cautious when planting California friendly plants, as some may be toxic to dogs. Please read the list of California friendly plants toxic to dogs.