Return to Field Program Update

10/28/2022 - 07:09 AM

Due to unforeseen circumstances, the Return to Field program will be suspended until January 3, 2023.

We would like to thank everyone for their assistance in making this program a successes and look forward to restarting the program.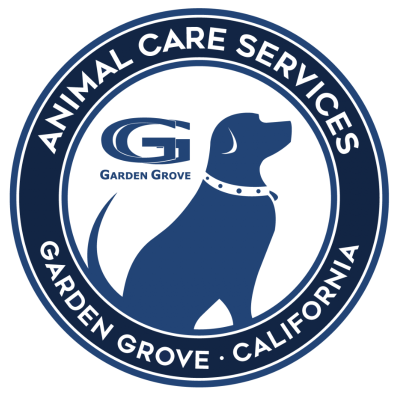 All animal field and licensing services are provided by the City of Garden Grove under Garden Grove Animal Care Services.
Garden Grove Animal Care Services
Garden Grove Municipal Service Center
13802 Newhope Street
Garden Grove, CA 92840
Phone: (714) 741-5565
The on-duty/on-call animal care officer is automatically notified when a voicemail message is left and will determine the level of response necessary. For after-hours emergencies, call Garden Grove Police Department at (714) 741 - 5704.
Email: animalcare@ggcity.org
Animal shelter services are provided by the OC Humane Society.
Orange County Humane Society
Directions
21632 Newland Street
Huntington Beach, CA 92646
(714) 536-8480
ochumanesociety.com
Hours
Monday - Sunday: 9:00 a.m. – 5:00 p.m.
Closed Holidays
News
Garden Grove Animal Care Serving You
Pet Alert Window Decals Now Available to Garden Grove Residents Only
In the event of an emergency, Garden Grove Animal Care's pet rescue decal alerts rescue personnel that pets are inside your home or apartment. Call or email Garden Grove Animal Care Services at (714) 741-5565 or animalcare@ggcity.org to request a free decal. Please provide your name and mailing address. (NOTE: Must Have a City of Garden Grove Address to receive decal.)
Updates