H. Louis Lake Senior Center
---
H. Louis Lake Senior Center update

8/9/2021 - 06:08 PM

Our Senior center opened June 15th and has been slowly resuming programs in an safe environment for all. Currently we are still asking our community to wear mask and are still continuing to offer frozen grab and go meals in place of our congregate lunch program. For up-to-date information, we courage you to call the center and ensure we have your most current contact information. We are currently offering in person classes and activities with limited capacity, pre-registration is required for all classes and activities. Please call to pre-register.
We are also offering virtual weekly "Chat" Zoom online workshops. Joining us on our weekly "Chat" groups in a great way to connect with others and a wonderful opportunity to learn more about what services are available in the community. If you need technology assistance we can assist you. We are also offering appointment based case management services. Please click on the newsletter below for more information about our programs and services. .

Current Hours of operation:
Monday 9:00 am - 3:30pm
Tuesday 1:00 pm - 3:30 pm
Wednesday 9:00 am - 3:30 pm
Thursday 9:00 am - 3:30 pm
Friday - Closed (By phone only)

H. Louis Lake Senior center
11300 Stanford Ave, Garden Grove, ca 92840

Please call the H. Louis Lake Senior Center for more information at 714-741-5253
About Us
The H. Louis Lake Senior Center offers Seniors 50 years and older a multitude of services and activities. No membership is required, but all participants must fill out an emergency card. A Congregate Meal Program Registration Form is required If you plan to stay for lunch. The Center is open Monday through Friday, from 8:00 a.m. to 3:30 p.m.
H. Louis Lake Senior Center
Legal Aid Services
The H. Louis Lake is offering free legal aid appointments for seniors, from 1:00 p.m. to 3:00 p.m. on the fourth Wednesday of every month.
During these appointments, seniors can receive assistance on a variety of legal issues including but not limited to: elder abuse, landlord/tenant disputes, government benefits, limited conservatorships, etc.
To schedule an appointment please all the H. Louis Lake Senior Center at 714-741-5253. For more information, click here to view the full brochure.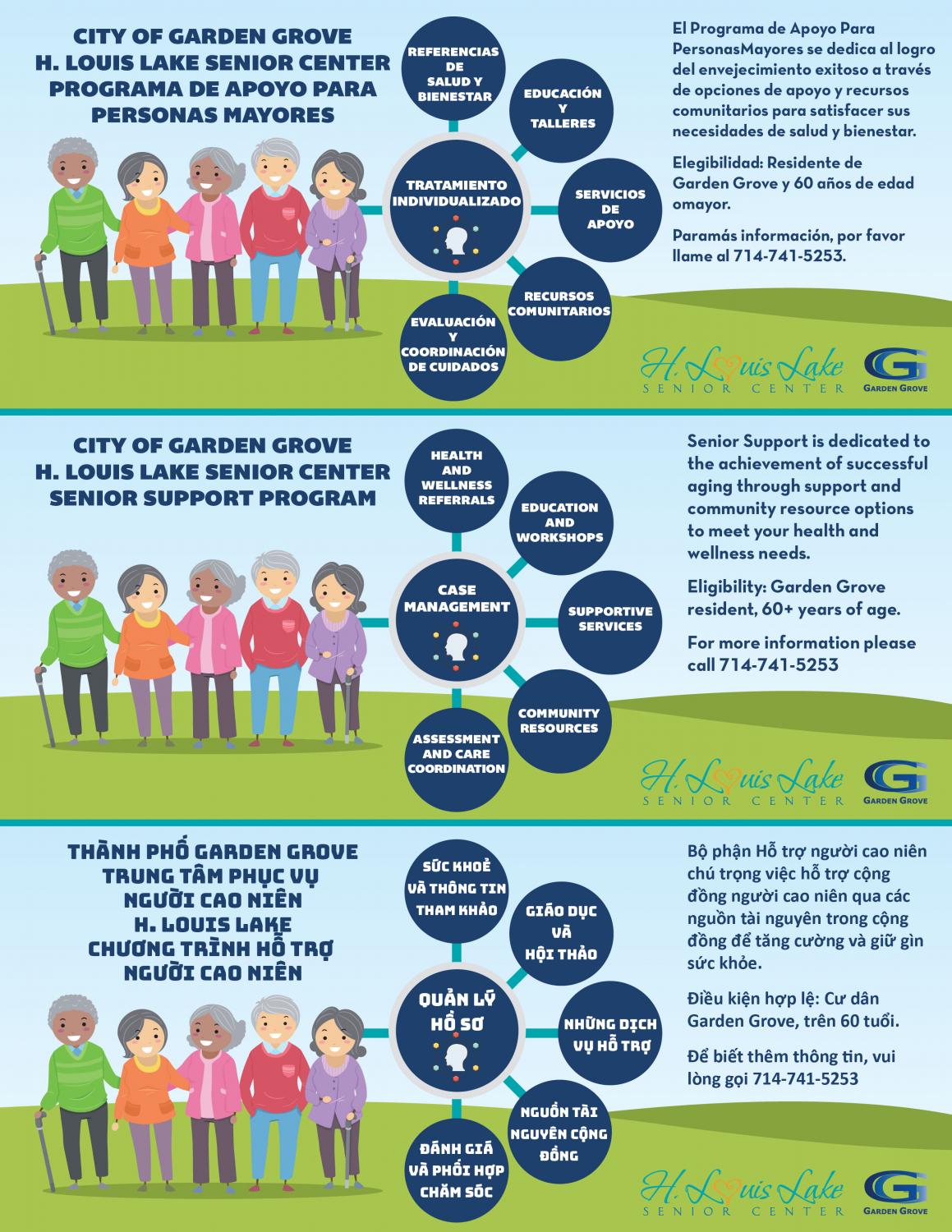 COVID Resources
COVID-19 Mental Health OC Health Care Flyer
Volunteer Opportunities
COVID-19 Crisis Volunteer Opportunities Online Application

MEALS ON WHEELS VOLUNTEERS: Home-delivered meal drivers are responsible for following a daily route to bring meals to the homes of homebound seniors who are enrolled in our program. You also have the option of assisting the Meals on Wheels coordinator with packing meals. Hours: 8:00a.m. to 12:00 p.m. One route usually takes no longer than 30 to 45 minutes. Meals On Wheels Flyer

OFFICE VOLUNTEERS: Greet visitors warmly and make sure they are comfortable. Answer phones and operate a switchboard. Perform basic bookkeeping, filing, and clerical duties. Schedule and follow-up office appointments. Hours: 9:00a.m. to 3:30p.m.

KITCHEN HELPER: Help serve lunch at the Senior Center Kitchen to participants Monday through Friday between 11:45a.m. to 12:00 p.m.

LUNCH SERVER: Distribute lunch to participants Monday through Friday in the dining room between 11:50 a.m. to 12:00 p.m.

DININIG ROOM REGISTRATION DESK: Assist with Daily Participant Sign In Sheet & follow Sign In sheet procedures.

SPECIAL EVENT VOLUNTEER: Help prepare for special events, such as decorating, balloons, utensils, and other areas as needed.

BINGO CALLER/BINGO CLERK VOLUNTEER: Calls out the numbers during bingo game. Has knowledge of commonly used concepts, practices, and procedures within bingo. Sell bingo card to players in assigned area and verifies winning cards. Provides prompt and courteous service to all guest.
If you would like to volunteer, please call (714) 741-5253.
Meals
Daily hot lunches are available for Seniors age 60 and older for a suggested donation of $3.50. For those younger than 60 the cost of lunch is $5.00. Transportation is available to Seniors living in Garden Grove that participate in the lunch program. Caring volunteers are needed for approximately 1 - 2 hours a week to deliver home meals to socially isolated seniors in Garden Grove.
For more information regarding the home meal delivery program, please call Community Senior Serve at
(714) 226-0550.
Activities
The Center offers many volunteer opportunities, activities, travel opportunities, classes, holiday parties, sports and special events. Classes include exercise (Tai Chi, low impact aerobics), line dancing, crafts (ceramics, jewelry making, sewing, needlecraft), cards (bridge and pinochle). The Center has two regulation pool tables, shuffleboard, bocci ball, longevity stick exercise, Zumba, line dancing and dancercise.
Transportation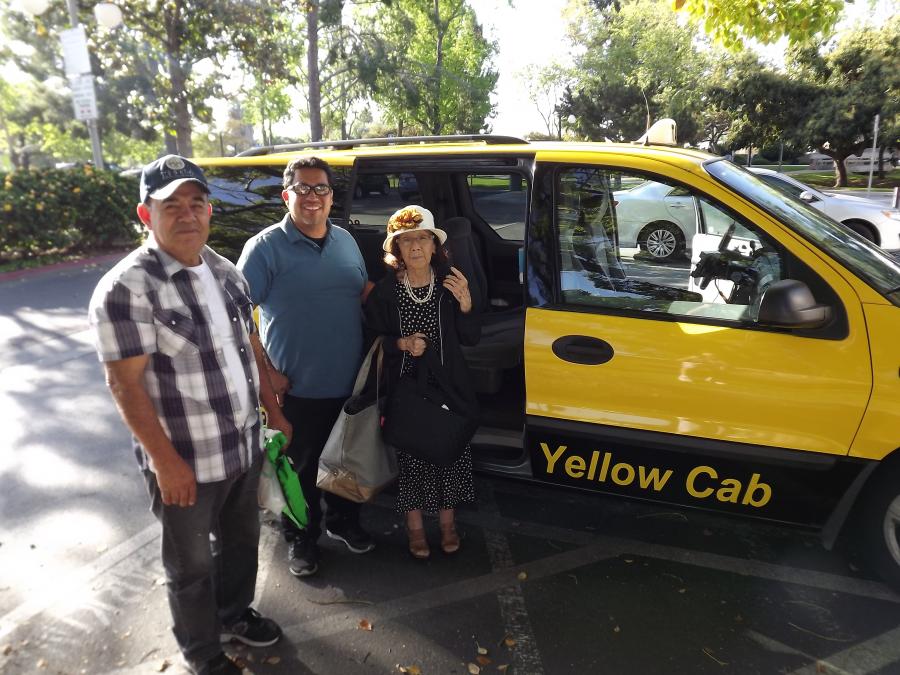 If you are a Garden Grove resident 60 years of age or older you may eligible to participate in our program. This program provides transportation to the H. Louis Lake Senior Center, medical appointments, and grocery shopping. Services will take you within the Garden Grove city limits and up to 5 miles outside city limits.
For more information please call (714) 741-5423.
Contact H. Louis Lake Senior Center to make appointments for Legal Aid, Preventative Health Care, Health Insurance & Medicare Counseling, and Tax Assistance.
For more information, please call (714) 741-5253