PLEASE DO NOT COME TO THE POOL IF YOU HAVE BEEN SICK OR HAVE BEEN IN CONTACT WITH SOMEONE WHO IS FEELING SICK OR ARE EXHIBITING COLD OR FLU LIKE SYMPTOMS.
Magnolia Pool will be closed for the 2022 season.
REC SWIM HOURS HAVE CHANGED. Please check our schedule before coming to the pool.
2022 Summer Aquatics
Pools will open for lessons, rentals, and recreational swim starting Monday, June 6th, 2022.
All 2022 programs subject to change according to new or changing Covid-19 guidelines.
Pool Locations
Gary Hall Pool (Eastgate Park)
12001 St. Mark Street (Chapman & Valley View)
Woodbury Park Pool
13800 Rosita Pl. (near Newhope & Westminster)
Pool Rentals
Starting on May 25th 2022, we will begin taking reservations for private pool rentals.
All pools are available to rent Saturdays and Sundays starting June 6th. Rentals will be limited to parties of up to 55 people for a maximum of 2 hours for the 2022 aquatics season.
Pool rental pricing will be as follows:
$80 for 1 Hour
$120 for 2 Hours
Max 55 persons per rental
Max 2 hours per rental
Reservations must be made in person at the Recreation front desk at City Hall. For questions about rentals, please call (714) 741-5200.
Recreational Swim
The 2022 Recreational Swim season will begin on Monday, June 6th, 2022. New Hours starting July 5th.
Last Day for 2022 Rec Swim is Aug 11th.
Pool
Day Swim - 1:45 - 3:15 PM

Gary Hall
Monday - Thursday
Woodbury
Monday - Thursday
Pool
Night Swim - 7:30 - 9:00 PM

Gary Hall
Thursday
Woodbury
Monday & Wednesday (Starting July 11, 2022)
Rec Swim Fees
Rec Swim - $2.00/visit for ages 2+

Rec swim hours subject to change without notice due to low attendance, emergency maintenance, or inclement weather.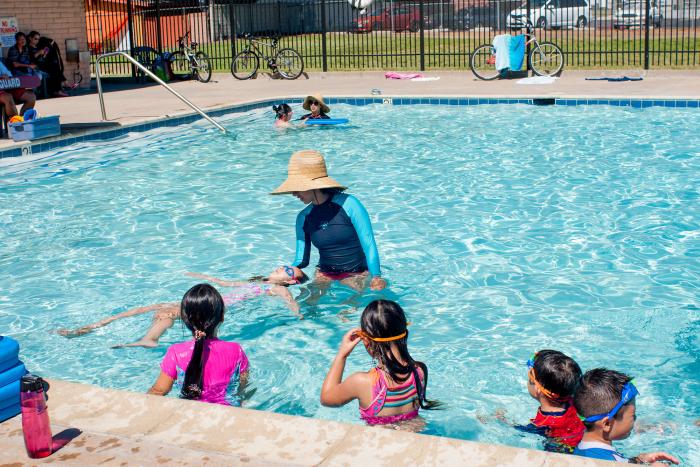 Summer Swim Lessons
Info about our swim lessons, swim level descriptions and registration help available below.
Summer Session Schedule
Session A June 6- June 16
Registration May 25- June 6
Session B June 20- June 30
Registration June 8- June 20
Session C July 5- July 14*
Registration June 22- July 5
Session D July 18- July 28
Registration July 6- July 18
Session E August 1- Aug 11
Registration July 20- Aug 1
* No class Monday July 4th. Make-up class will be held on Friday July 8th.
Registration online ONLY at https://ggcity.org/reggister
Class schedule available 1 week before registration begins, online at: https://ggcity.org/reggister
Quick Links
NOTE: All programs, classes and fees are subject to change or cancel without notice. Should a participant wish to cancel or change a class after the registration process, there will be a $5 processing fee per class. Refund requests must be made one week prior to the start of the first class or program. Class changes or transfers may only be accommodated if space allows and will not be permitted once the class has begun. Please be absolutely sure you register your child in the appropriate class for their swim ability. Refunds will not be offered for mis-registrations after 1 week before the first day of the session.
For questions or more information, please call the Community Services Department at (714) 741-5200.