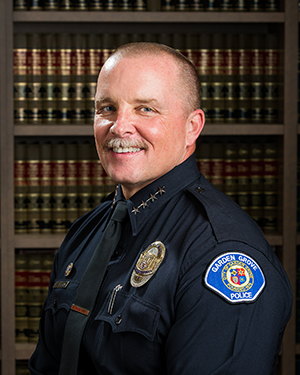 The City of Garden Grove's 12th Police Chief was hired as a recruit for the Garden Grove Police Department on October 9, 1987. He became a patrol officer in 1988 and worked the streets for two years before serving in a variety of assignments including working as a DARE Officer, SWAT Officer, Master Officer and Special Investigations Unit Investigator.
In 1994, Todd became a Patrol Sergeant and in 2001 he transferred to the Gang Suppression Unit. In 2002 Todd promoted to Lieutenant and served in this capacity for nine years. During his time as a Lieutenant, he supervised the East Division, SWAT Team and Special Services Division. He became a Police Captain in 2009 and served in that capacity until his promotion to Chief of Police in January 2015.
Todd holds a Bachelor's Degree from the University of Phoenix and is a graduate of the prestigious Federal Bureau of Investigations National Academy in Virginia. He has had a distinguished 32-year career in Garden Grove and has received several awards including the Orange County Sheriff's Most Outstanding Recruit, Rookie of the Year, Officer of the Year and a Class A Commendation for his work on the Howard Dallies Task Force.
Todd is a member of the International Association of Chief's of Police and also serves on several City committees, including the Economic Development and Improvement Committee (EDIC), the Neighborhood Improvement Committee (NIC), the Community Policing Advisory Board – Chief's Forum, and the Garden Grove Police Department's Citizen Academy.
Todd is a certified Arrest and Control Techniques instructor and a certified court expert in the field of gangs and narcotics. He enjoys spending quality time with his wife and children, hiking, physical fitness activities, and watching sports.
Retirement Date
April 20, 2019
Date Hired
October 9, 1987
Education
Bachelor's Degree from the University of Phoenix
Graduate of the Federal Bureau of Investigations National Academy
Southwest Command College
Post Sherman Block Supervisory Leadership Institute
Affiliations
International Association of Chief's of Police