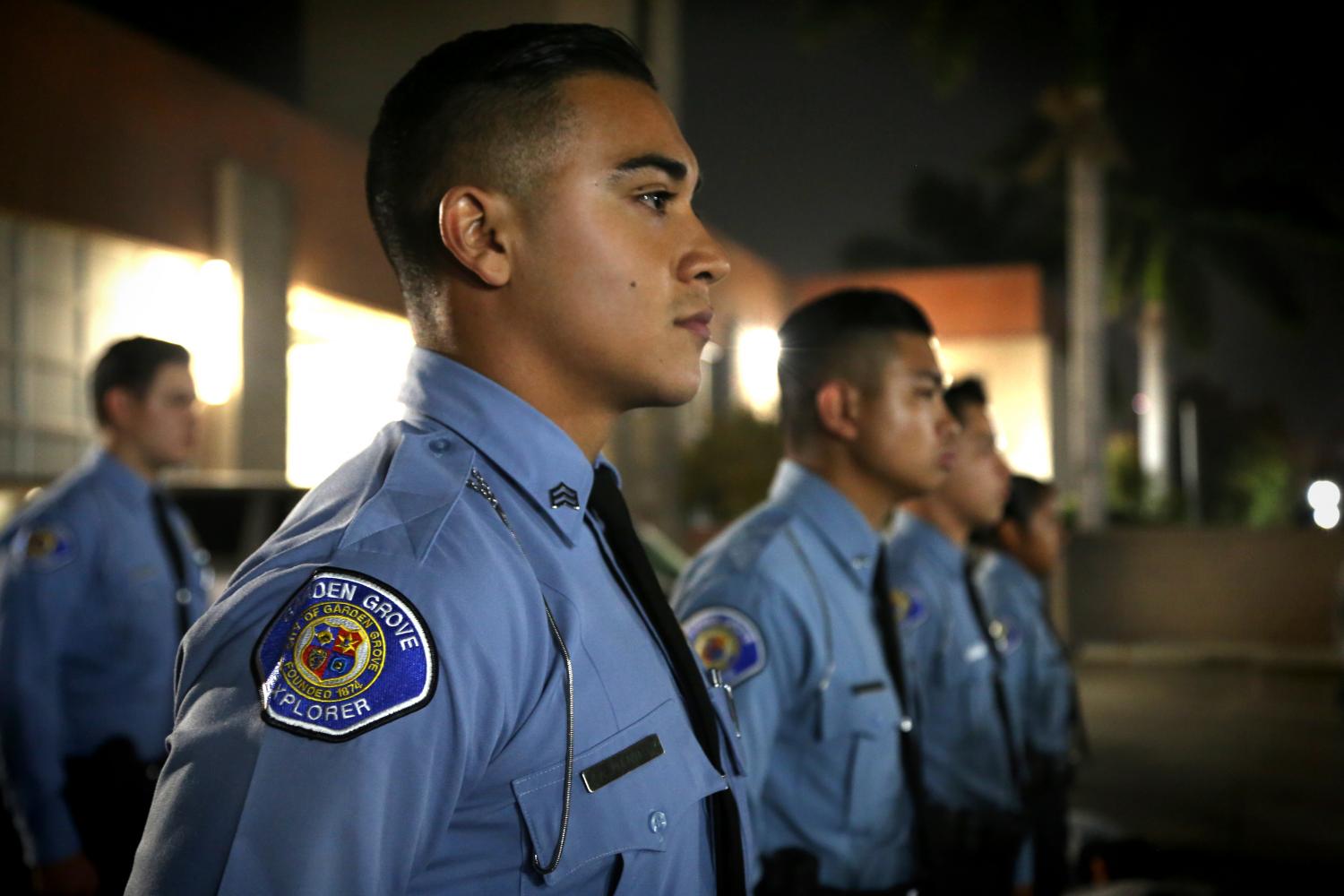 What is the Explorer program?
The Garden Grove Police Explorer Post provides an opportunity for young men and women to experience firsthand how a police department functions, and what it takes to get started with a career in public safety. Twice a year, new Explorer recruits are required to attend a formal academy over a long weekend where they are taught criminal law, radio codes, traffic control, first-aid, military drill, police procedures, and other basic law enforcement techniques. After successful completion of the Academy, Explorers receive a certificate of completion and are then eligible for advancement.
Police Explorers perform a variety of community services, such as crowd control at parades, festivals, and special events. Occasionally, they are called out to assist police officers in emergency situations, such as searching for missing children, searching for evidence, assisting at major disaster scenes, or to perform other duties required by the Police Department.
Explorers are also eligible to go on department ride-alongs. This opportunity allows the participant to observe police officers as they perform their duties in the field, and helps the Explorer decide if this type of occupation is suitable for them.
Explorer Post Goals
To provide positive teenage activities through community involvement.
To supply a reserve pool of individuals for emergencies or for community service.
To provide elementary law enforcement training.
To create the potential for young people to learn responsibility and leadership skills.
To give Explorers the experience necessary for them to make an educated decision whether or not to choose law enforcement for their future.
To promote a spirit of cooperation through personal growth and group development.
Membership Requirements
Be between the ages of 14 and 20 at the time of application.
Be free of any serious physical or mental deficiency which would limit participation in the program.
Have no serious criminal record or excessive traffic violations.
Maintain a "C" grade average while a student in high school or college.
How to Apply for Membership
Attend three consecutive meetings.
Complete and return the membership application.
Pass an oral interview.
Pass a background investigation.
For more information on membership, interested individuals should attend an Explorer meeting as a "guest."
Meeting Schedule
Day:
Every Tuesday
Time:
5:00 PM
Place:
Garden Grove Police Department
 
11301 Acacia Parkway, Garden Grove, CA 92840
Phone:
(714) 741-5704