Senior Center Drive-In Movie
---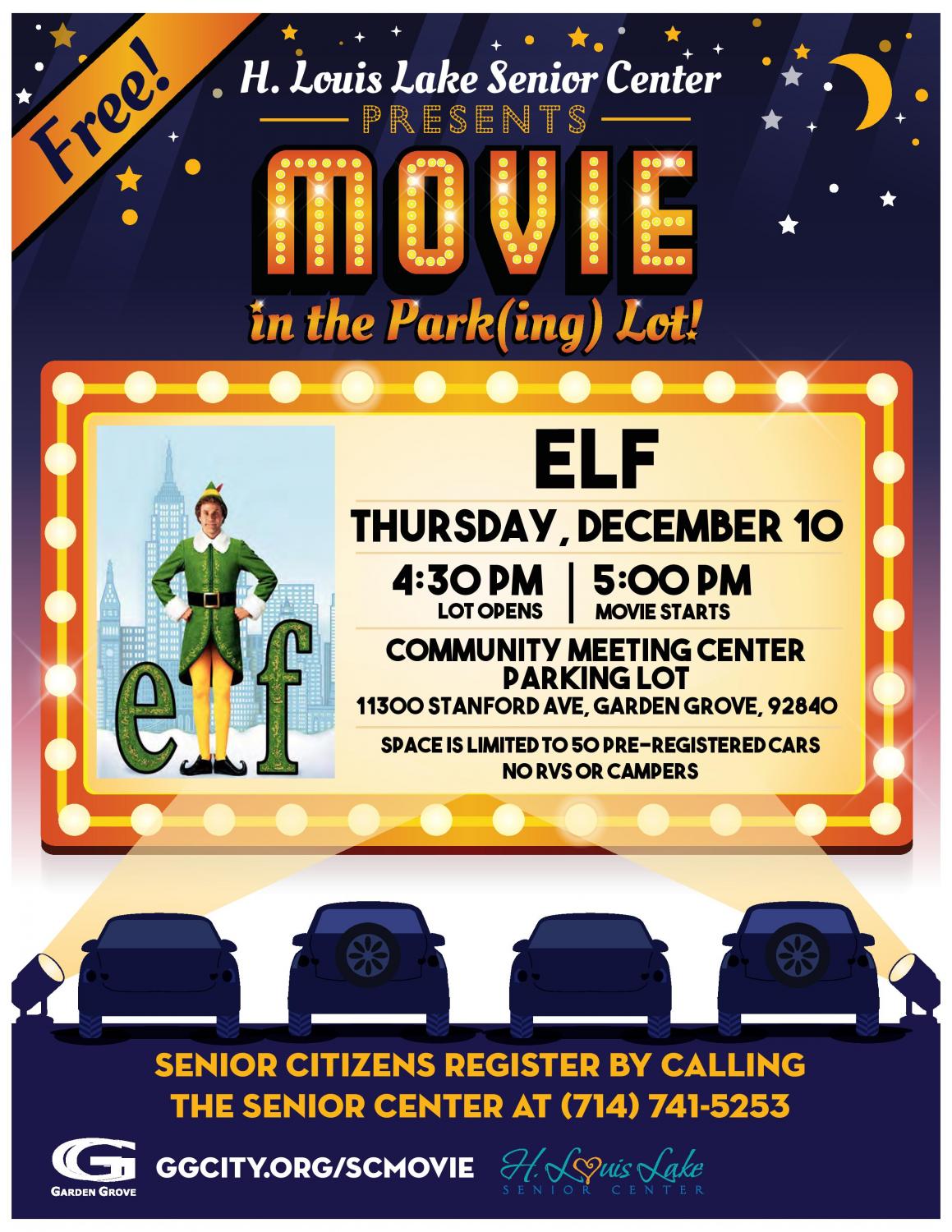 SYNOPSIS
Buddy (Will Ferrell) was accidentally transported to the North Pole as a toddler and raised to adulthood among Santa's elves. Unable to shake the feeling that he doesn't fit in, the adult Buddy travels to New York, in full elf uniform, in search of his real father. As it happens, this is Walter Hobbs (James Caan), a cynical businessman. After a DNA test proves this, Walter reluctantly attempts to start a relationship with the childlike Buddy with increasingly chaotic results.
REGISTRATION INFORMATION
Senior citizens register by calling the Senior Center at (714) 741-5253
FOOD INFORMATION
Attendees can bring their own food to the event.
EVENT GUIDELINES
Reservations required for entrance. Ticket must be shown at entrance.
Parking attendants will direct guests to designated rows based on car height, with shorter cars towards the front and taller cars towards the back.
Gates will open at 4:30 p.m. and the movie will start at 5:00 p.m.
Each ticket is valid for ONE car and all passengers within. Passengers must not exceed number of safety belts/ seats in vehicle.
Vehicles must remain parked for the duration of the movie.
No tailgating allowed, forward facing only.
No RVs or campers are permitted
Attendees may only leave their vehicle to use the restroom.
Attendees must wear face coverings and practice social distancing while outside their vehicle.
Attendees may not sit on top of their vehicles.
Attendees can bring their own food but food delivery is not allowed.
Concessions will not be available for purchase.
Smoking, including e-cigarettes/ vaporizers, and alcohol are not permitted.
No animals allowed (with the exception of service animals).
Please note: Keeping vehicle in auxiliary mode may drain the battery. Attendees are welcome to bring a hand-held radio to tune in. Restart your engine periodically or leave your engine running for the duration of the movie.
PLEASE DO NOT ATTEND THIS EVENT IF YOU ARE FEELING SICK OR ARE EXHIBITING FLU LIKE SYMPTOMS!
We appreciate your cooperation as we all work together to ensure safety for all and minimize the exposure of COVID-19.
If you have additional questions, please call the Senior Center at (714) 741-5253.