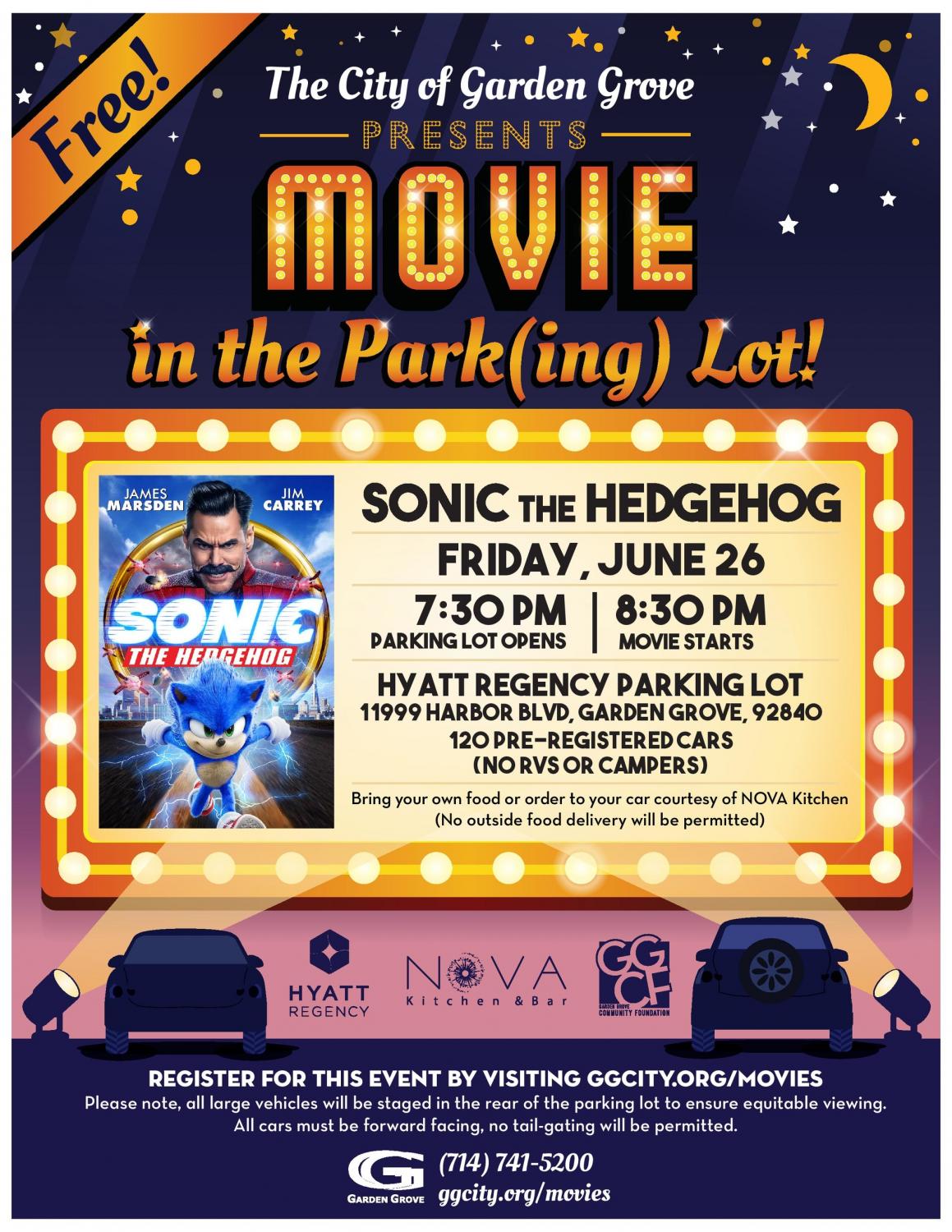 Based on the global blockbuster videogame franchise from Sega, SONIC THE HEDGEHOG tells the story of the world's speediest hedgehog as he embraces his new home on Earth. In this live-action adventure comedy, Sonic and his new best friend Tom (James Marsden) team up to defend the planet from the evil genius Dr. Robotnik (Jim Carrey) and his plans for world domination. The family-friendly film also stars Tika Sumpter and Ben Schwartz as the voice of Sonic.


UPDATE: This event is currently SOLD OUT. Click here to sign-up for the wait-list. Please note, joining the wait-list does not guarantee entry into the event.
Attendees MUST pre-register for this event and provide their receipt for entry into the event.
NOVA Kitchen will be offering a special menu for this event, as well as providing delivery straight to your car! Click here to view their family-friendly meal options.
Reservations required for entrance. Receipt must be shown at gate entrance.
Spaces will not pre-assigned, parking spots can be chosen upon arrival.
Large vehicles (vans, trucks, SUVs) will be positioned toward the rear of the lot to ensure view of the screen is not blocked for other attendees.
Parking lot will open at 7:30pm. Movie will begin at 8:30pm.
Vehicles must remain in parking lot for duration of the movie.
Each reservation is entitled to one parking space. Attendees must park in designated stalls as directed by parking lot attendants.
No tailgating allowed, forward facing parking only.
No RVs or campers will be permitted.
Speed limit is 5 MPH while in the parking lot. Please watch for children and pedestrians when entering and exiting the parking lot.
Attendees may only leave their vehicles to visit the restroom. Parents must escort children to the restroom.
Attendees must wear a face-covering when exiting vehicle and practice social distancing.
Due to safety concerns, attendees may not sit on top of vehicles or sit outside of vehicles.
Food can be brought from home or delivered to vehicle courtesy of NOVA Kitchen. No outside food delivery will be permitted.
Concessions will not be available for purchase at this event.
Smoking, including e-cigarettes/vaporizers, and alcohol are not permitted.
No animals allowed (with the exception of service animals)
Please note: Keeping vehicle in auxiliary mode may drain battery. To eliminate battery drainage, attendees are welcome to bring a handheld radio to tune in. Restart your vehicle periodically, or leave your engine running for the duration of the movie.
Thank you for your cooperation and we hope you enjoy the movie! If you have additional questions, please call the Recreation Department at (714) 741-5200.