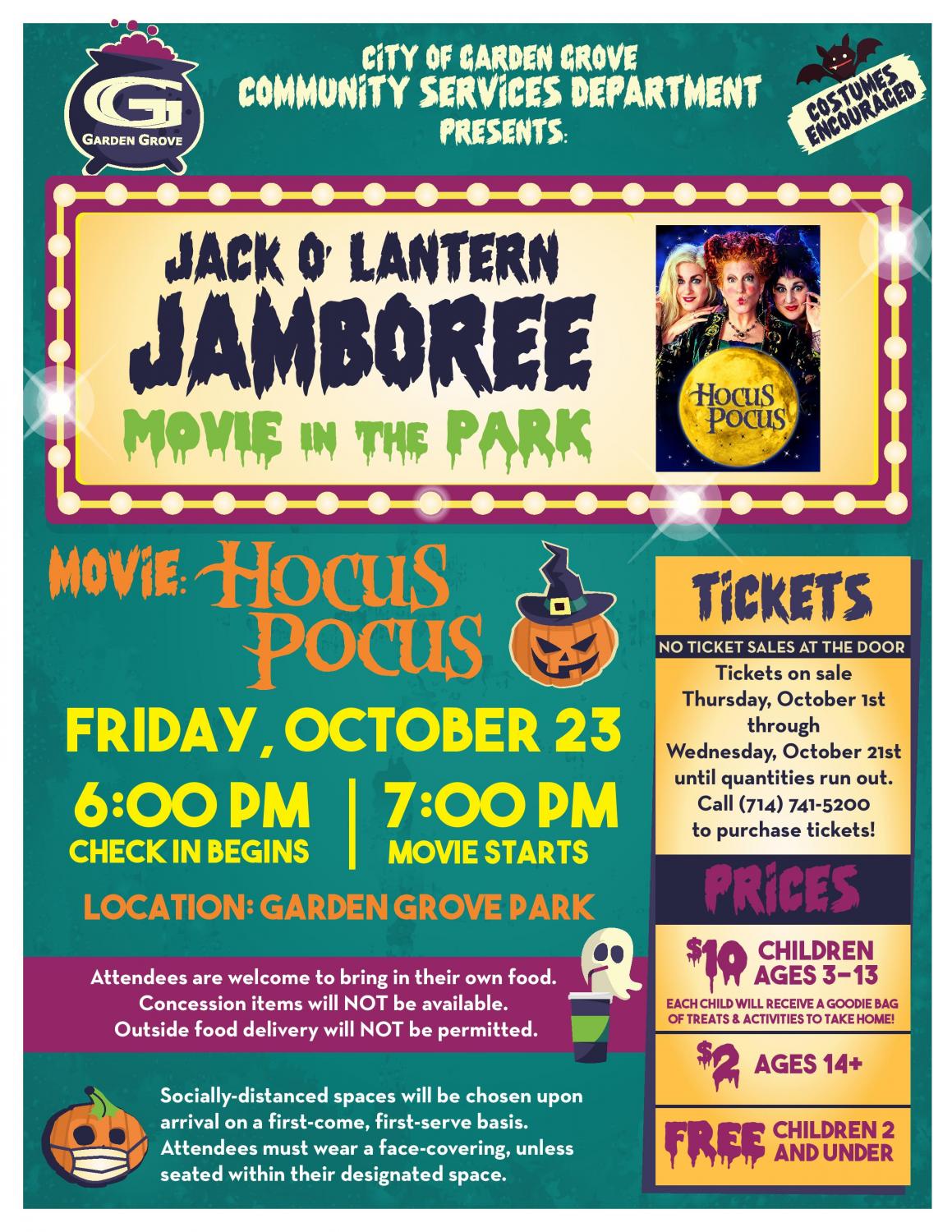 After moving to Salem, Mass., teenager Max Dennison explores an abandoned house with his sister Dani and their new friend, Allison. After dismissing a story Allison tells as superstitious, Max accidentally frees a coven of evil witches who used to live in the house. Now, with the help of a magical cat, the kids must steal the witches' book of spells to stop them from becoming immortal.
Ages 0-2: FREE
Ages 3-13: $10
(Each child will receive a goody bag of treats & activities to take home!)
Ages 14+: $2
Pre-registration is required for this event.
Tickets on sale Thursday, October 1st through Wednesday, October 21st until quantities run out.
Call (714) 741-5200 to purchase tickets!
Concessions will not be available for purchase but attendees can bring their own food to the event. Please note, outside food delivery will not be permitted.
Reservations required for entrance. Attendees will be seated in socially distanced, 12'x12' spaces, with up to 8 people from the same household allowed per space. One person may call to register their household, but will need to provide the names and ages of all people in household that will be attending as each attendee needs to have their own registration.
Spaces will not be pre-assigned, spots can be chosen upon arrival on a first-come, first-serve basis.
Gates will open at 6:00pm. Movie will begin at 7:00pm.
Costumes encouraged!
Attendees may bring blankets and beach chairs. No tents or pop-ups will be permitted. All personal items must stay within the 12'x12' space.
Attendees must stay within their designated space, unless visiting the restroom.
Attendees must wear a face-covering, unless seated within their designated space.
Attendees can bring in their own food, but outside food delivery will not be permitted.
Concessions will not be available for purchase at this event.
Smoking, including e-cigarettes/vaporizers, and alcohol are not permitted.
No animals allowed (with the exception of service animals)
Please do not attend this event if you are feeling sick or exhibiting flu-like symptoms.
We appreciate your cooperation as we all work together to ensure safety for all and minimize the exposure of COVID-19. If you have additional questions, please call the Community Services Department at (714) 741-5200.