Eligible Home Repairs
Are you 62 years of age or older? You may qualify for a Home Improvement Grant of up to $5,000 to address code violations, substandard conditions, and necessary health and safety improvements to your home.
What kind of repairs can you request? Repairs that are related to building code violations and substandard living conditions. Repairs can include the following: exterior painting, window replacement, electrical, plumbing, heating (HVAC), handicap accessibility (Wheelchair ramp, grab bars, walk-in shower, etc.), and roof repair or replacement.
Income Eligibility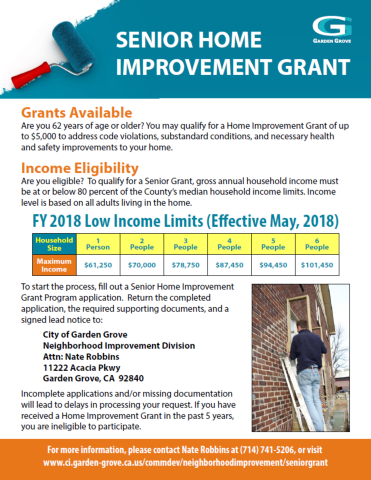 Are you eligible? To qualify for a Senior Grant, gross annual household income must be at or below 80 percent of the County's median household income limits. Income level is based on all adults living in the home.
FY 2018 Low Income Limits (Effective May, 2018)
Household
Size
1
Person
2
People
3
People
4
People
5
People
6
People
Maximum
Income
$61,250
$70,000
$78,750
$87,450
$94,450
$101,450
How to Start the Process
To start the process, fill out a Senior Home Improvement Grant Program application. Return the completed application, the required supporting documents, and a signed lead notice to:
City of Garden Grove
Neighborhood Improvement Division
Attn: Nate Robbins
11222 Acacia Pkwy
Garden Grove, CA 92840
Incomplete applications and/or missing documentation will lead to delays in processing your request. If you have received a Home Improvement Grant in the past, you are ineligible to participate.
For more information, please contact Nate Robbins at (714) 741-5206 or by email at nater@ggcity.org