First-Time Home Buyer Programs
---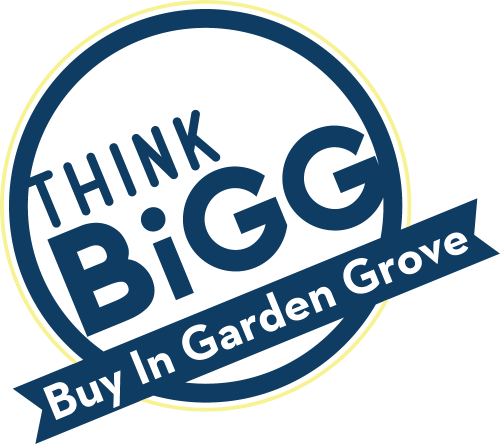 Looking to purchase your first home? The City of Garden Grove invites you to come join the Garden Grove family! The City of Garden Grove is offering the CalHOME Loan for eligible first-time home buyers. Qualifying families who are looking to purchase a home in Garden Grove can apply and utilize the funding for down-payment and/or closing cost assistance.
Program Requirements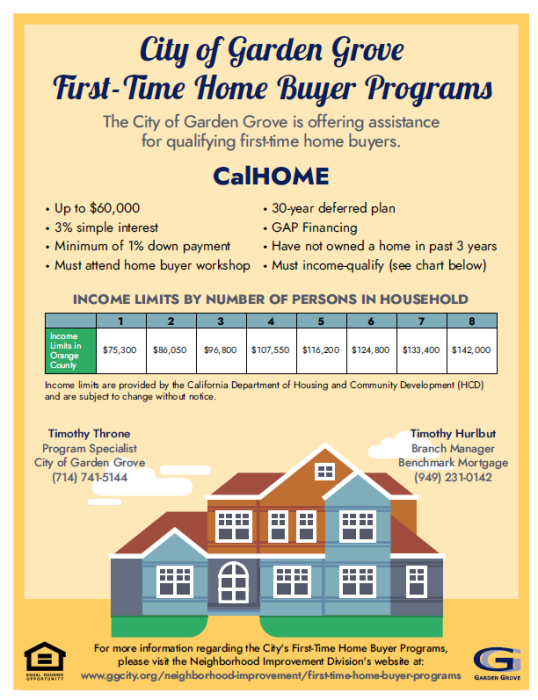 Have not owned a home within last three years
Attend the City's free First-Time Home Buyer Workshop (register below)
Pass the free certification exam
Home is located within Garden Grove
Owner must occupy the home
Must income-qualify (see chart below)
| Household Size | 1 | 2 | 3 | 4 | 5 | 6 | 7 | 8 |
| --- | --- | --- | --- | --- | --- | --- | --- | --- |
| Total Annual Household Income | $75,900 | $86,750 | $97,600 | $108,400 | $117,100 | $125,750 | $134,450 | $143,100 |
Income Limits are provided by the California Department of Housing and Community Development (HCD) and are subject to change without notice.
Program Details
CalHOME
Up to $60,000
30-year deferred loan
3% simple interest
GAP Financing
Minimum of 1% down payment
Workshops Coming Soon
Workshops will be held virtually to adhere to social distancing requirements.
Workshops will be help from 9:00 am - 12:00 pm on the button above. A few days prior to each workshop, City Staff will send out a reminder email to everyone who has registered. Zoom links will be sent out automatically after you register, so please ensure you received the Zoom invitation after you have registered for the workshop.
Required Application Documents
Income
---
Most Current W2's for 3 years
Most Current 30 days of pay stubs, must be consecutive
3 years Personal Tax Returns (all pages, these are your 1040's)
3 years Business Tax Returns (if you are self employed or own a business)
Most current benefit award letter (social security, pension, etc.) if you are retired
Most current retirement statement, if you are direct deposit, bank statement will suffice
Assets and ID
---
Most current 2 months bank statements (all pages) - review your deposit, if you have $500.00 and above and it's not payroll, please provide an explanation
401K, IRA, CD's, 203B's, etc., 2 months of the most current statements, or if quarterly most current quarter (all pages)
Terms of withdrawal (if using money from retirement account such as 401K)
Copy of drivers' license or any government issued ID
Copy of resident alien and social security card if not US citizen
Miscellaneous Documents
---
VA loan - DD214
Child support order & divorce decree (all pages) or 3 months of bank statements
If you filed bankruptcy in the past 7 years, all pages of the bankruptcy documents including discharged
If you do not have 2 years of employment and are attending school, a copy of the diploma or transcripts
For further questions regarding these programs, please call one of the contacts below.