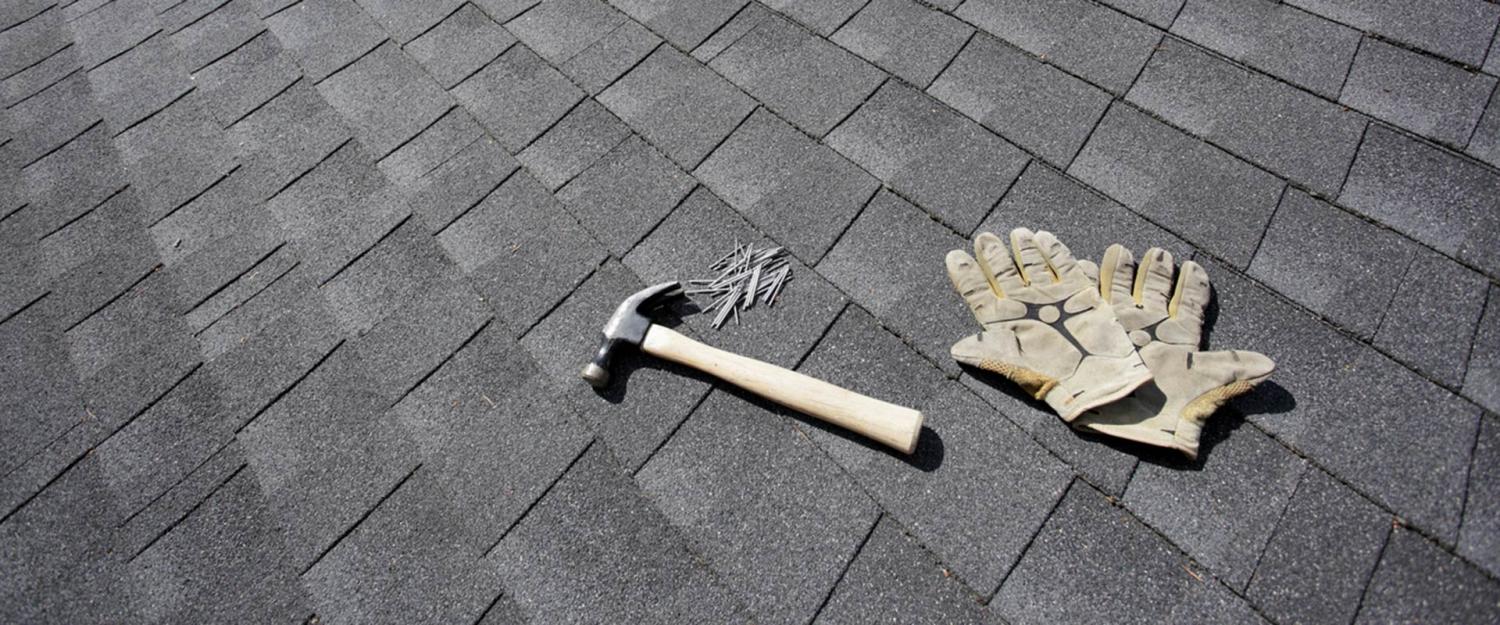 Is your roof damaged or leaking? The City of Garden Grove wants to help by offering the Re-Roof Loan Program. Qualifying families can apply for up to $20,000 of assistance to replace their substandard roof.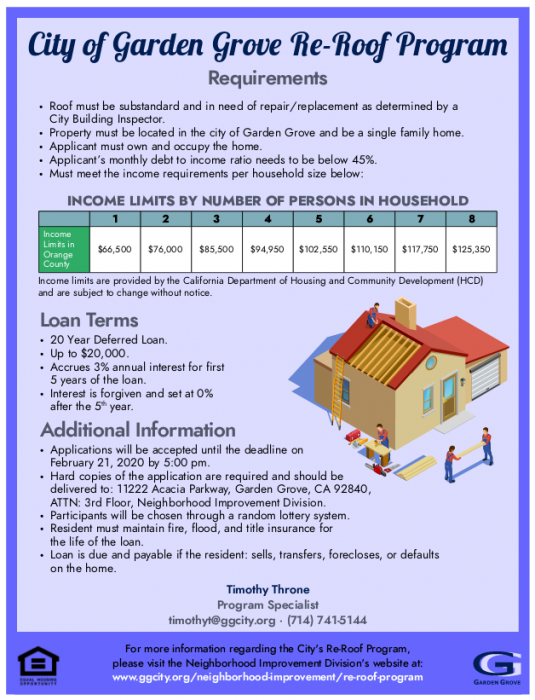 Program Requirements
Roof must be substandard and in need of repair/replacement as determined by a City Building Official.
Property must be located in the city of Garden Grove and be a single-family home.
Applicant must own and occupy the home.
Applicant's monthly debt to income ratio needs to be below 45%.
Must income-qualify (see chart below)
| Household Size | 1 | 2 | 3 | 4 | 5 | 6 | 7 | 8 |
| --- | --- | --- | --- | --- | --- | --- | --- | --- |
| Total Annual Household Income | $66,500 | $76,000 | $85,500 | $94,950 | $102,550 | $110,150 | $117,750 | $125,350 |
Program Details
20 Year Deferred Loan.
Up to $20,000.
Accrues 3% annual interest for first 5 years of the loan.
Interest is forgiven and set at 0% after the 5th year.
Homeowner must maintain fire, flood, and title insurance for the life of the loan.
Loan is due and payable if the resident: sells, transfers, forecloses, or defaults on the home.
Participants will be chosen through a random lottery system.
Required Application Documents
Income
Most Current W2's for 2 years.
Most Current 30 days of pay stubs, must be consecutive.
2 years Personal Tax Returns (all pages, these are your 1040's).
2 years Business Tax Returns (if you are self employed or own a business).
Most current benefit award letter (social security, pension, etc.) if you are retired.
Most current retirement statement.
Assets and ID
Most current 6 months bank statements (all pages) - review your deposit, if you have $500.00 and above and it's not payroll, please provide an explanation.
401K, IRA, CD's, 203B's, etc., 2 months of the most current statements, or if quarterly most current quarter (all pages).
Terms of withdrawal (if using money from retirement account such as 401K).
Copy of drivers' license or any government issued ID.
Copy of resident alien and social security card if not US citizen.
Miscellaneous Documents
VA loan - DD214.
Child support order.
Proof of fire, flood (if applicable), and title insurance.
Photos of roof showing the damage (submit with the pre-application).
Application Process
To start the process, fill out the Re-Roof Loan Program application. Once the application period ends on February 24th, 2020, City Staff will conduct a random lottery of the qualified applicants to decide who receives the loan. After the ten program participants have been chosen, City Staff will request a full application packet with relevant supporting documents for loan underwriting. Please return completed applications to: