City Hall Lobby Open

1/31/2022 - 03:33 PM

City Hall lobby is now open.

To make an appointment with Building or inquire about building permit(s), plan check or building inspection(s), call during normal business hours at (714) 741-5307 or email building@ggcity.org

To make an appointment with Planning or inquire about land use and zoning matters, call during normal business hours at (714) 741-5312 or complete Planning Contact Request,

To inquire about land development, capital projects or traffic, visit ggcity.org/engineering; call during normal business hours at (714) 741-5192; or email rjacot@ggcity.org

State Requires Masking for all Public Indoor Settings

12/14/2021 - 05:08 PM

The California Department of Public Health has extended the statewide indoor masking requirement through Tuesday, February 15, 2022. Masks must be worn in all indoor public places, regardless of vaccine status.

Online Permits and Submittals

2/4/2021 - 10:16 AM

Online Permits & Submittals Notice!

All requests for building permits and plan check submittals must be submitted digitally. For any questions, please contact the Building & Safety Division at

(714) 741-5307

or visit the

Building & Safety website.

City Hall Closure

2/4/2021 - 10:18 AM

Building & Safety, Planning and Engineering counters are open by appointment only.

To inquire about land use or zoning matters, call during normal business hours: (714) 741-5312, email planning@ggcity.org, or visit the 1st floor Planning Counter, in City Hall.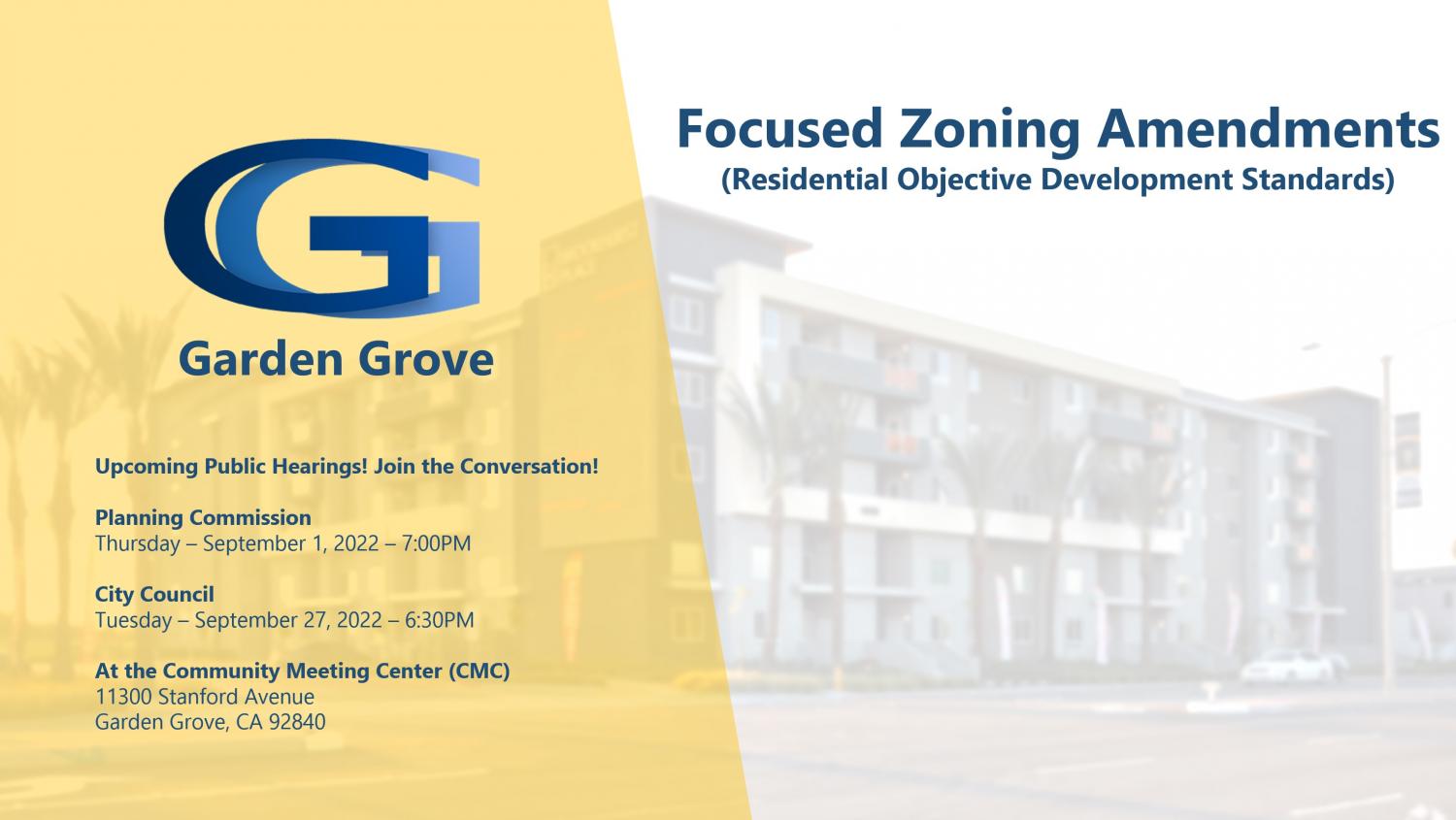 Focused Zoning Amendments
On September 27, 2022, the City Council will consider proposed focused zoning code text amendments relating to the creation of objective development standards for single-family residential, multifamily residential, mixed use, supportive housing, and single room occupancy housing.
Recent State housing laws have targeted ways to ease local government constraints on housing development – and affordable housing in particular. The Housing Accountability Act requires cities to use objective development standards in their reviews of residential development projects. Another piece of legislation is the Housing Crisis Act (also known as Senate Bill 330), which in part, established laws that are intended to: streamline housing development approvals; protect existing affordable housing; disallow cities from rezoning a property to a lower residential density; and restricts cities from establishing new residential design standards unless they meet the definition of objective design standards as provided in State law.
To help cities and counties prepare, adopt, and implement plans and process improvements that facilitate housing approvals in accordance with State laws, the State established the SB 2 Planning Grants Program and the Local Early Action Planning (LEAP) Grant Program, which provide funding and technical assistance to all local governments in California. The City of Garden Grove was awarded grant funding through the SB 2 and LEAP Planning Grant Programs. The City has leveraged these funds, in part, to support the completion and adoption of focused zoning code amendments.
Proposed Draft Focused Zoning Amendments
For public review, please see redlines of the proposed draft Focused Zoning Amendments.
About Planning

Welcome to the Planning Services Division of the City of Garden Grove. Planning Services is responsible for administering the City's zoning and land use codes. The City's land use regulations are intended to create a positive business and living environment while preserving and enhancing the appearance of the City. Read More...
While the Planning's website page is here to give you access to information that affects development in the City, our friendly and professional Planning staff is also here to assist you. We are open 7:30 am to 5:30 pm Monday through Thursday and from 7:30 am to 5:00 pm on alternating Fridays. When visiting City Hall, unless otherwise noted, there is always a planner available to assist you at the Planning Services Counter. You can also reach us by phone or email. Our phone number is: 714-741-5312 and our email address is:
planning@ggcity.org
. While we try to answer every phone call, due to the high volume of calls we cannot always get to your call. The best way to contact us is via email. Our goal is to have an answer to you the same day. However, depending on the nature of your request or the time or day it is received, it may take longer. Either way we will do our best to have an answer to you as quickly as possible.
Prior to establishing a business, signing a lease to start a new business, constructing an addition to your home, building a new home, or developing a property, we encourage you to reach out to Planning Services in order to obtain the necessary information that you will need in order to begin your project. Our goal is to assist you in making the process as easy as possible.
If you are a homeowner, contact both the Planning Services and Building Services Divisions if you intend on adding a room, constructing a patio cover, building a wall, installing a shed or pool, or similar improvement. Because there are setback, height, lot coverage, opens space, and construction requirements that will affect your proposed project design, it is helpful to contact us before finalizing any improvement plans to identify specific requirements and fees.
If you are a business owner, prior to expanding an existing business, or establishing a new business, contact the Planning Services Division to determine if your use is permitted and to determine if the site where you want to locate is adequate in size and has ample parking to support your use. Additionally, you should contact the Building Division to discuss any Uniform Building Code requirements that would affect any construction or tenant improvements you will need to make. It is important for you to contact the city prior to purchasing or leasing a property/building to identify any specific requirements and fees. Depending on your use and the type of improvements you are proposing, your project may require a discretionary review.
If you are developer and you are looking to build a new structure, add on to an existing structure, or perform a building renovation contact the Planning and Building Divisions prior to designing the project. Contacting us prior to beginning the design phase of your project will ensure that the site is appropriate for the proposed use, and we can help you identify any development standards and Uniform Building Code requirements that will be required to be incorporated into the project design. Additionally we will be able to determine the appropriate application process.
Thank you for accessing our web page and we look forward to hearing from you.
Featured Services