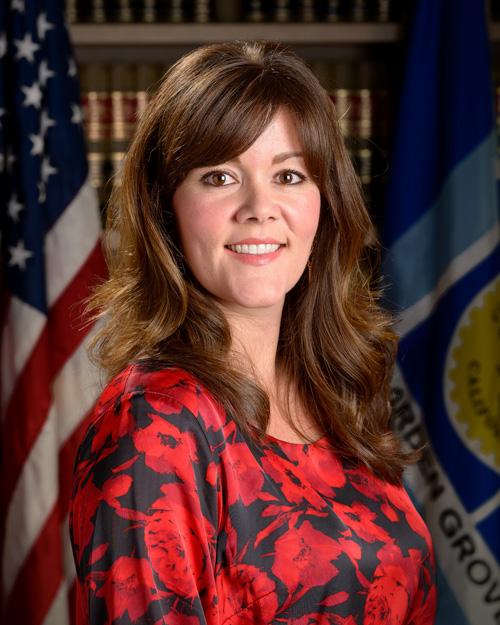 Council Member - District 5
Time in Office
Elected to City Council in 2016
City Hall Phone
(714) 741-5104
Email
stephaniek@ggcity.org
Biography
On November 8, 2016, Stephanie Klopfenstein was elected to the Garden Grove City Council. Born and raised in Garden Grove, her family roots trace back to the town's early beginnings in the late 1800's.
A proud product of the Garden Grove Unified School District, Council Member Klopfenstein spent time traveling and working abroad in radio broadcasting. Drawn back to her deep ancestral roots and desire to give back to her city, she returned to Garden Grove. Following studies at Concordia University, she married and began a career in marketing.
She currently sits on the City of Garden Grove Parks, Recreation, and Arts Commission, is a board member of the Garden Grove Neighborhood Association, a member of CHOC Hospitals Lamp Lighter Guild, and is also a member of the Garden Grove Downtown Business Association.
She values time spent with her husband and young daughter, exploring the Eastern Sierra, cooking, and enjoying a good book.
Community Goal
To represent the residents of District 5 and issue in a new chapter of growth and prosperity in Garden Grove, while striving to enhance the safety and family-friendly environment our great city deserves.
Regional Government/Committee Involvement
Association of California Cities Orange County, Representative
CHOC Hospitals Lamp Lighter Guild, Member
Garden Grove Downtown Business Association, Member
Garden Grove Neighborhood Association Board Member
Garden Grove Parks, Recreation, and Arts Commissioner
Orange County Public Library Advisory Board, Alternate
Orange County Vector Control District, Representative
Birthplace
Garden Grove, CA
Garden Grove Resident
Family roots trace back to the town's early beginnings in the late 1800's