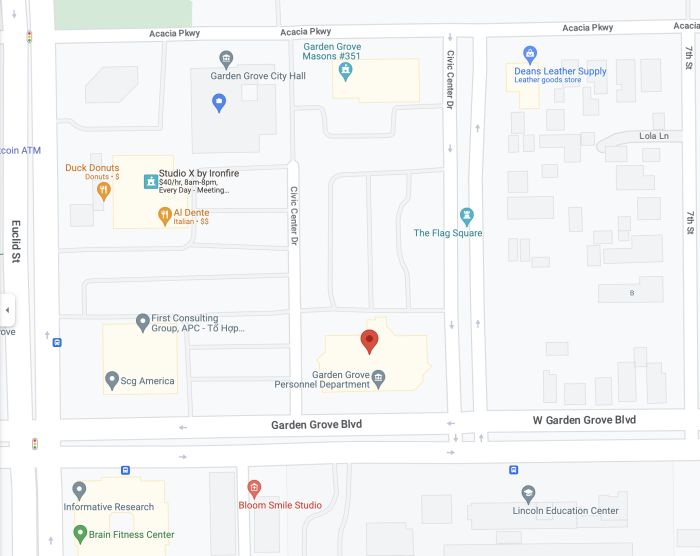 The Garden Grove Housing Authority operates under federal grants received from the Department of Housing and Urban Development to provide rental subsidies to low-income families. The program assists over 2,300 families with their monthly rent.
Families qualify for rental subsidies based on their income. Once eligibility is determined, families are authorized to seek privately owned rental units.
Due to a long waiting list, the Housing Authority accepts new applications for the program only periodically. A public announcement is made when the program is open to new applicants.
For more information, please call the Housing Authority at (714) 741-5150.
Effective September 25, 2023, the Garden Grove Housing Authority address is:
Fiscal Year 2020-2024 Five Year and Annual Plan
The Garden Grove Housing Authority's FY 2020-2024 Five Year and Annual Plan establishes goals and objectives to promote adequate and affordable housing, economic opportunity, and a suitable living environment free from discrimination.
The Housing Authority is currently NOT accepting new applications.

Information for Current Tenants
The United States Department of Housing and Urban Development (HUD) has certain requirements of Section 8 rental assistance recipients. Participation in the Section 8 program, as well as housing assistance, may be terminated if any of the following requirements are not met:
You must report changes in family income (increases or decreases), sources of income, family composition (addition or deletion of family members) or changes in student status for dependent(s) over the age of eighteen within 3 weeks using Change Report Form. Failure to report any changes to the Housing Authority constitutes fraud, and is grounds for termination of assistance as well as criminal prosecution.
You must give a 30-day Written Notice to your owner before you intend to move if the terms of your lease allows. You must notify the Housing Authority before vacating the rental unit. Give the Housing Authority a copy of any move notice from the owner.
Tenant Rights During Foreclosure
ATTENTION SECTION 8 VOUCHER HOLDERS
90-DAYS OR MORE FOR TERMINATION (EVICTION) NOTICE REQUIREMENT AND FORECLOSURE IS NOT GOOD CAUSE TO TERMINATE THE TENANCY
On May 20, 2009 a new federal law protecting your rights became law (Protecting Tenants at Foreclosure Act, Pub. L. No. 111-22, § 702 (2009). Section 8 housing choice voucher tenants have new rights regarding eviction from units that have been foreclosed upon. The new owner, who now owns your home as a result of the foreclosure, must follow these rules:
1) If you have a lease for a fixed term, such as one year, and the lease has not expired, you have a right to remain in the unit and cannot be evicted (except for actions that you, members of your family or your guests take which constitute good cause) until the end of the lease term.
2) If your lease ends in less than 90 days the new owner may not evict you without giving you at a minimum 90 days notice.
3) The new owner wanting the property vacant before they sell it is not good cause for terminating the tenancy or for eviction.
4) There is one exception to the rule that you may not be evicted during the term of your lease. If the new owner who acquired the property at foreclosure wants to occupy the unit as his or her primary residence, that owner may give you a 90 day notice to vacate your home even if your lease runs for longer than 90 days. If the new owner tells you that you have to leave, offers you money to leave or gives you a notice of eviction, you should contact your worker at the Garden Grove Housing Authority - tell us what is happening and give us a copy of any notice. You may also contact the Fair Housing Foundation, toll free, at: (800) 446-3247
Information for Landlords
The Housing Authority provides a free rental listing service to landlords. Listings are made available to eligible families who are looking for vacant units.
Landlords can list their properties with the Housing Authority by calling during regular office hours (Monday-Thursday 7:30 a.m. - 5:30 p.m., and every other Friday 7:30 a.m. to 5 p.m.).
Vacancy
Landlords with vacancies can also complete their vacancy listings with the Vacancy Listing Form and return it to the Housing Authority or faxing it to (714) 741-5197.
Request for Garden Grove Housing Authority of Tenancy Approval (RTA)
The complete RTA packet includes six forms. For your convenience, the following three forms are posted online. Please have your tenant contact his/her caseworker regarding the other three documents.
W-9 Form - Request for Taxpayer Identification number and Certification: For tax purposes.
Lead-based Paint Disclosure Form (for units built before 1978 only and only if your unit does not have a lead-based paint inspector's certification): Before executing the HAP contract, the owner must inform the GGHA and family of any known lead-base paint or lead-base paint hazards on the premises.
The other three documents your tenant will need are:
Request for Tenancy Approval (HUD form 52517) issued by Garden Grove Housing Authority. Please contact tenant or housing specialist.
Proof of Ownership (A copy of a recorded Grant Deed - (Provided by landlord)
Copy of your Lease that conforms to state/federal laws (Provided by landlord)
Mobility and Portability
If an applicant is qualified for housing assistance as a resident, the family will be permitted to relocate outside of Garden Grove Housing Authority's (GGHA) jurisdiction.
Mobility
Mobility applies to families moving out of the city of Garden Grove but remain within the County of Orange, except the City of Santa Ana. The three housing authorities in Orange County: the Orange County HA, Anaheim HA and the GGHA have entered into an agreement to administer mobility. Applicants who request mobility will be administered as follows:
Applicant will submit the Request for Tenancy Approval (RTA) to the GGHA
GGHA will forward the RTA form to the host housing authority
GGHA reimburses host authority for inspection services
* All contact for administration of tenant's file remains with GGHA
Portability
Portability applies to families moving to the City of Santa Ana or out of Orange County and within the United States and its territories. When a family requests to move outside of GGHA's jurisdiction, the request must specify the area to which the family wants to move. The area must also be one that administers a Section 8 program. GGHA will forward applicant's files to the host housing authority. Host housing authority will inspect and administer applicant's file.
Surrounding Area Housing Authorities
Garden Grove Housing Authority Administrative Plan
The Garden Grove Housing Authority's Administrative Plan establishes written policies for administering the Housing Choice Voucher (HVC) Program. These policies are in accordance with HUD regulations.
AB 987
Pursuant to AB 987, passed by the California State Legislature in 2007, a description of all housing units assisted with a Redevelopment Agency's Low and Moderate Income Housing Fund or otherwise counted towards an Agency's inclusionary or replacement requirements must be posted for public review and updated once annually. This database is not a listing of available housing.
AB 987 Multifamily Database
Other Useful Information
The following information may be helpful for finding the Garden Grove Housing Authority's location or finding information on other Housing Authorities throughout Orange County.
Garden Grove Civic Center Map
Bus Route Information
The following OCTA bus lines operate near Housing Authority's office:
OCTA Route 37 (runs North-South on Euclid St.)
OCTA Route 56 (runs East-West on Garden Grove Blvd.)
For more bus route information, please visit OCTA's website.
Other Useful Links