March 8 - Public Hearing

3/3/2022 - 04:55 PM

Public Hearing may also be viewed from the City's website. Public comments may also be provided by following these instructions: Participation at Public Meetings. A Zoom call-in option is available by calling in by 6:50 p.m. for the 7:00 p.m. public hearing start time at (669) 900 - 6833 and providing Meeting ID: 826 2555 9715.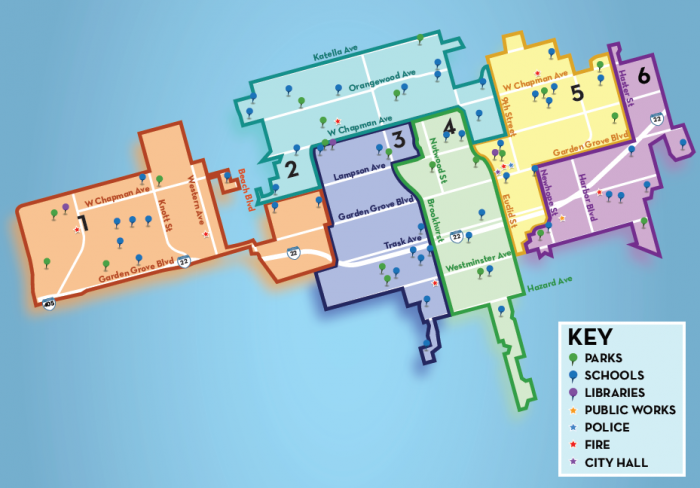 City of Garden Grove Redistricting Process
Every 10 years, local governments use new data from the Census Bureau to update district lines to reflect how local populations have changed. The resulting City Council district boundaries must be balanced in population in accordance with local, state, and federal regulations. Redistricting is important in ensuring that each City Council member represents approximately the same number of constituents. Under Assembly Bill 849 (2019), cities and counties are required to engage communities in the redistricting process by holding public hearings and/or workshops and public outreach, including non-English speaking communities. For the City of Garden Grove, this redistricting process must be completed by April 17, 2022. New Census data was recently released and can be accessed HERE.
Frequently Asked Questions
Redistricting determines which neighborhoods and communities are grouped together into a district for purposes of electing city council members.
The City of Garden Grove will seek input in updating the district map for its six city council districts. Garden Grove residents will have an opportunity to share how they think district boundaries should be drawn to best represent the community.
To the extent practicable, district lines must be adopted using the following criteria, in order of priority: (1) geographically contiguous districts (each city council district should share a common border with the next), (2) the geographic integrity of local neighborhoods or communities shall be respected in a manner that minimizes its division, (3) geographic integrity of a city shall be respected in a manner that minimizes its division, (4) easily identifiable boundaries that follow natural or artificial barriers (rivers, streets, highways, rail lines, etc.), and (5) lines shall be drawn to encourage geographic compactness. In addition, boundaries shall not be drawn for purposes of favoring or discriminating against a political party.
You can find a map of the City's current city council districts here:
The City of Garden Grove will reach out to local media to publicize the redistricting process. Also, we will make a good faith effort to notify community groups of various kinds about the redistricting process. Our public workshops will be provided in applicable languages if residents submit a request in advance. The City of Garden Grove will notify the public about redistricting workshops, post maps online before adoption, and create a dedicated web page for all relevant information about the redistricting process.
The City of Garden Grove will be holding public hearings and a public workshop to receive public input on where district lines should be drawn. Dates, times, and locations are below.
Spanish and Vietnamese translators will be available for the public workshop and all the public hearings. Translators for Chinese and Korean must be requested at least 72 hours in advance by contacting the City Clerk's Office at (714) 741-5040 or cityclerk@ggcity.org. Any person requiring auxiliary aids and services due to a disability, please contact the City Clerk's Office at least 72 hours prior to the meeting to arrange accommodations.
Questions or comments may be sent to cityclerk@ggcity.org and a member of the redistricting team will get back to you.
Public Hearing and Public Workshop Schedule

| EVENT | DATE | Time |
| --- | --- | --- |
| Public Hearing -- Pre-Draft Discussion, Summary of Redistricting Law, Criteria, 2020 Census, and Process | Tuesday, January 11, 2022 | 7:00 p.m. |
| Public Workshop -- Communities of Interest | Saturday, January 29, 2022 | 10:00 a.m. to 12:00 p.m. |
| Public Hearing -- Presentation of Community Input and District Alternatives, City Council Consideration and Direction Regarding Draft Map | Tuesday, February 8, 2022 | 7:00 p.m. |
| Public Hearing -- Public Input on Draft Map | Tuesday, February 22, 2022 | 7:00 p.m. |
| Public Hearing -- Presentation of Proposed Ordinance and City Council Member District Boundaries Map, City Council First Reading. A ZOOM CALL-IN OPTION is available. Call in by 6:50 p.m. for the 7:00 p.m. public hearing start time at 669-900-6833 - ID 826 2555 9715. | Tuesday, March 8, 2022 | 7:00 p.m. |
| Public Meeting -- Second Reading of Ordinance and City Council Member District Boundaries Map | Tuesday, March 22, 2022 | 7:00 p.m. |
Draft Maps and Data
Public Hearing Meeting Videos