Environmental Justice Element
---
What is Environmental Justice?
The State of California defines Environmental Justice as the "fair treatment and meaningful involvement of people of all races, cultures, incomes, and national origins with respect to the development, adoption, implementation, and enforcement of laws, regulations, and policies," California Government Code section 65040.12(e).
This goal will be achieved when everyone has the same degree of protection from environmental and health hazards, and equal access to the decision-making process to have a healthy environment to live, learn, and work.
Environmental Justice Element in the General Plan
In September 2016, Senate Bill 1000 (SB 1000) was adopted requiring jurisdictions with disadvantaged communities to incorporate environmental justice policies into their general plans. State law requires environmental justice policies to be incorporated into the general plan upon the adoption or the next revision of two or more general elements. The City of Garden Grove is in the process of updating both the Housing Element and the Safety Element, which also requires the City to include the environmental justice policies in the general plan.
The City of Garden Grove will prepare a new Environmental Justice Element that will address the following environmental justice goals, policies, and objectives as required by State law:
Reduction of pollution exposure and improving air quality
Promoting access to public facilities
Promoting access to healthy foods
Promoting safe and sanitary homes
Promoting physical activity
Promoting civic engagement
Disadvantaged Communities in Garden Grove
Garden Grove has nine (9) census tracts identified as disadvantaged communities. These communities are disproportionately affected by environmental pollution and other hazards that can lead to negative public health effects, exposure, or environmental degradation. These communities also have concentrations of people that experience low income, high unemployment, low levels of homeownership, high-rent burden and/or low levels of educational attainment.
The map below identifies the disadvantaged communities in the city as identified by CalEnviroScreen 3.0.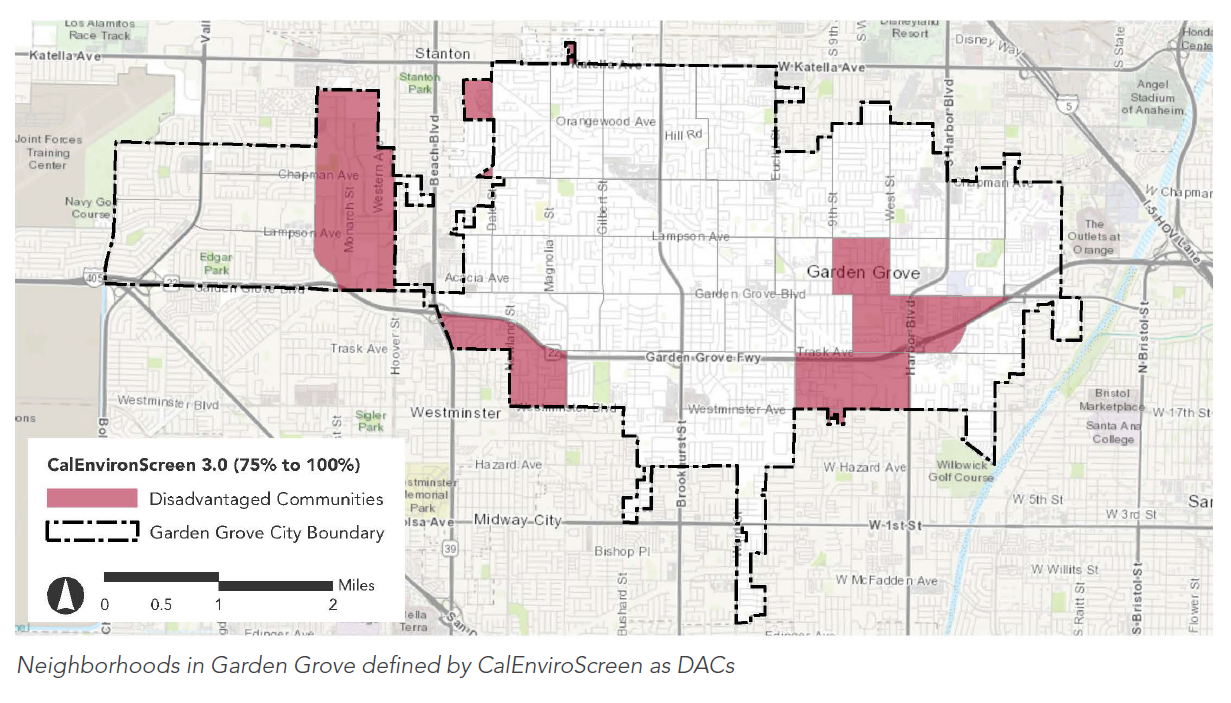 To view the CalEnviroScreen 3.0 Interactive Map and explore the risk factors involved please click here.
To view the disadvantaged community map click here.
Community Participation
Participation is an important component for shaping the goals and policies of the Environmental Justice Element. We encourage all Garden Grove stakeholders and residents, especially those who live in a disadvantaged community, to participate in all upcoming surveys and community meetings. Please join our e-mail list to receive updates on the Environmental Justice Element progress, including information on upcoming surveys and workshops.
Timeline
The Environmental Justice Element timeline of events will run concurrently with the Housing Element update. Click here to view the timeline.