Garden Grove Teen Action Collaborative
---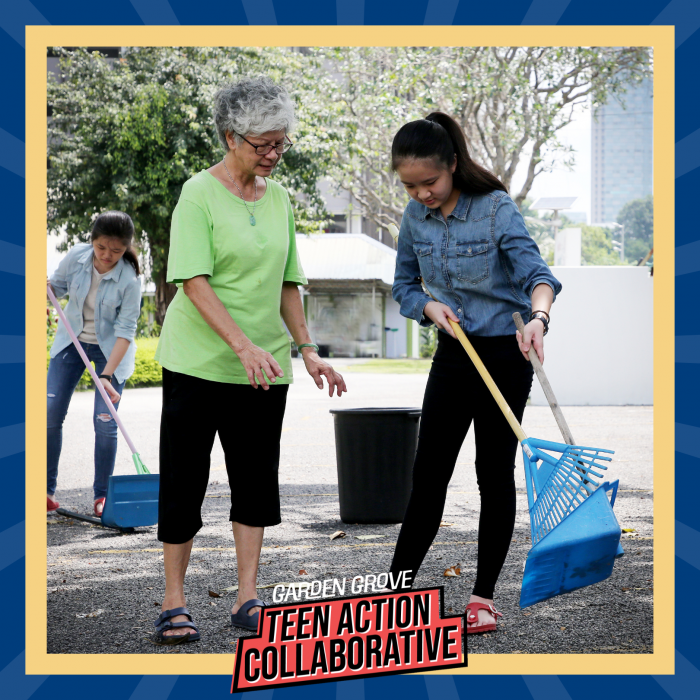 About
The Garden Grove Teen Action Collaborative (GGTAC) is a teen leadership program that empowers teens to become future mentors and leaders in the community through teamwork, community partnerships, and community service---all within a fun and friendly atmosphere! GGTAC will serve as a teen hub for resources from a collaboration of local agencies that is designed by and for Garden Grove teens. With guidance from City staff, teens will have a better understanding of career development and mentorship, while also meeting new people, creating new friendships, and making a difference!
Teens can participate in:
Special Events
Service Projects
Volunteer Opportunities
Career and Leadership Trainings/Workshops
Having Fun and Meeting New Friends!
Please RSVP for first meeting here.
GGTAC Mission Statement
"In an ever-evolving environment, the Garden Grove Teen Action Collaborative will work to empower youth to be leaders, through inclusive and engaging programs and services, offered in a safe space that respects all voices."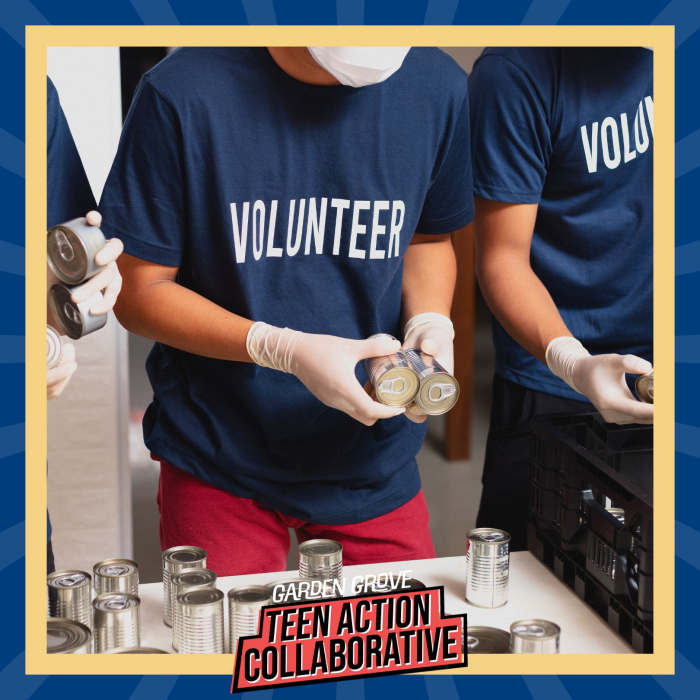 Meeting Schedule
The GGTAC will meet on the 3rd Thursday of every month from 4:00 p.m. - 5:00 p.m. at the Community Meeting Center (11300 Stanford Avenue, Garden Grove, 92840). Meeting dates for the 2022/2023 school year are as follows:
September 15, 2022
October 20, 2022
November 17, 2022
December 15, 2022
January 19, 2023
February 16, 2023
March 16, 2023
April 20, 2023
May 18, 2023
Upcoming Activities
2022
Jack-O-Lantern Jamboree
Saturday, October 22, 2022 | Atlantis Play Center, 13630 Atlantis Way, Garden Grove, 92844
Jack-O-Lantern Jamboree is a popular annual event hosted by the City of Garden Grove. This event will have obstacle courses, a petting zoo, a pumpkin patch, glitter tattoos, and much more. GGTAC members will have the opportunity to help run carnival games, collect tickets, assist vendors, and more. Dinner is included.
Food Distribution at Bracken's Kitchen
Monday, November 21, 2022 | Bracken's Kitchen, 13941 Nautilus Dr, Garden Grove, 92843
GGTAC members will learn about the importance of food recovery, community feeding programs, and culinary training, by assisting in the food preparation and packaging at Bracken's Kitchen. Some food allergies can be accommodated.
Winter in the Grove
Saturday, December 3, 2022 | Village Green Park, 12732 Main Street, Garden Grove 92840
This fun, holiday event will feature live performances, inflatable activities for children, a holiday craft boutique, 50 tons of snow to create snow slides, a spectacular tree-lighting, and a visit from Santa and Mrs. Claus!
2023
Quick Links
GGTAC Requirements & Opportunities
GGTAC Application - Email completed application to cynthiaa@ggcity.org, or drop off a printed copy to the Community Services Department at Garden Grove City Hall, 11222 Acacia Parkway (or the building adjacent to City Hall during temporary closure), or bring a copy to the next general meeting!

Questions or more information? Please call the Community Services Department at (714) 741-5200 or Cynthia Alvarez at (714) 741-5357.