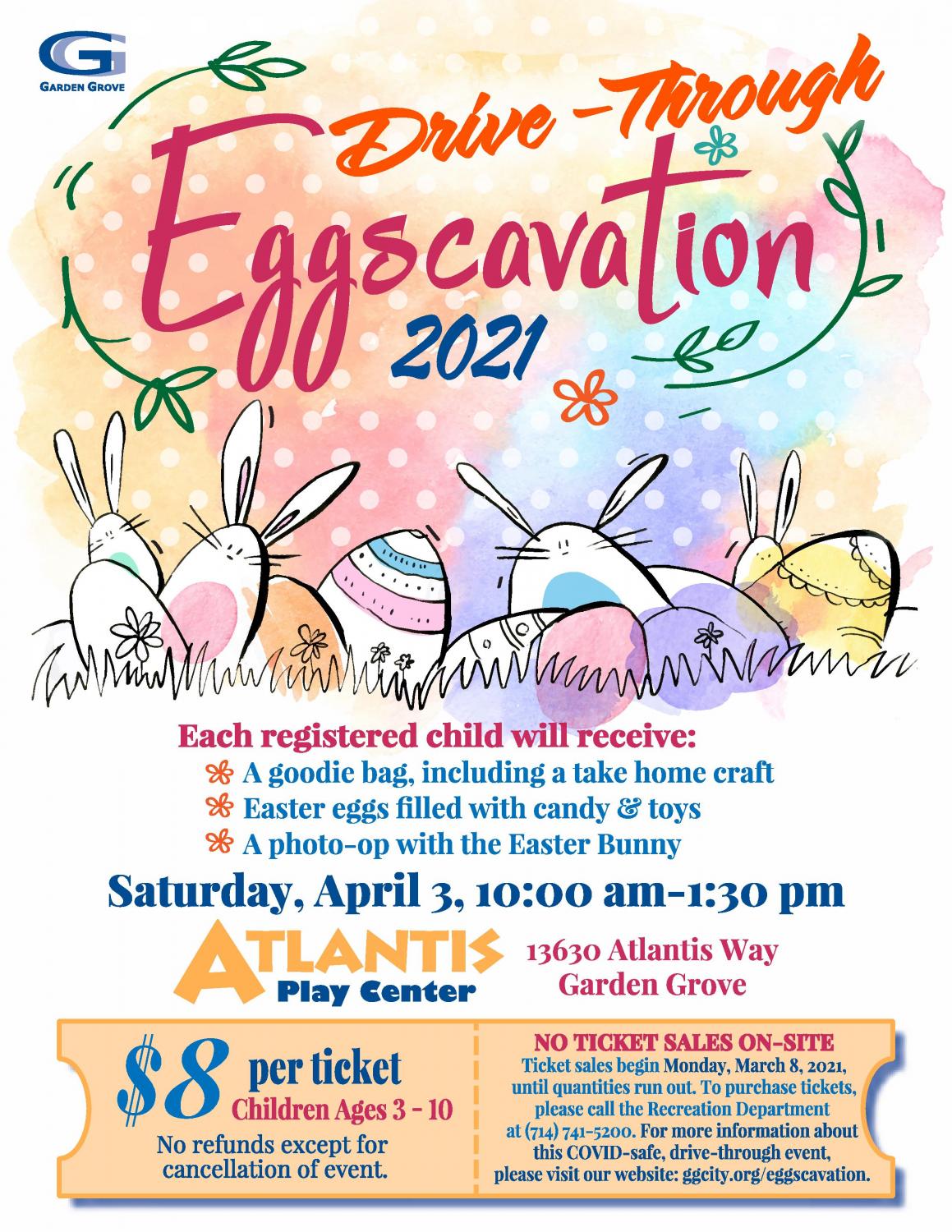 Date
Saturday, April 3
10:00 AM - 1:30 PM
Location
Atlantis Play Center
13630 Atlantis Way
Garden Grove, CA 92844
Event Information
Join us on Saturday, April 3, 2021, for a drive-through Eggscavation! The event will be held on Atlantis Way, outside of Atlantis Play Center. Each registered child will receive a goodie bag upon arrival with toys, candy, and a take-home craft. Throughout the drive, they will also receive eggs filled with candy and toys. At the end of the route, they'll have the chance to take a photo with the Easter bunny (from the safety of the vehicle)!
Due to the nature of this event and the contents of each goodie bag, we recommend this event for children, ages 3-10 years old. Adults and younger/older siblings may attend if riding in the same vehicle as registered ticket holders. Only registered ticket holders will receive giveaways.
Tickets will be available for the following time slots:
10:00 a.m. to 10:30 a.m.
10:45 a.m. to 11:15 a.m.
11:30 a.m. to 12:00 p.m.
12:15 p.m. to 12:45 p.m.
1:00 p.m. to 1:30 p.m.
Time slots will be available on a first-come, first-serve basis, until the maximum number of openings per time slot are filled. Purchase your tickets early if you are interested in a particular time slot as they may fill up.
Pricing
Children, ages 3-10 years old: $8
Registration Information
Tickets for this drive-through event go on sale Monday, March 8, 2021. Call the Community Services Department at (714) 741-5200 to register. Please note: When purchasing tickets, ensure the children you are purchasing tickets for will be in your vehicle on the day of the event.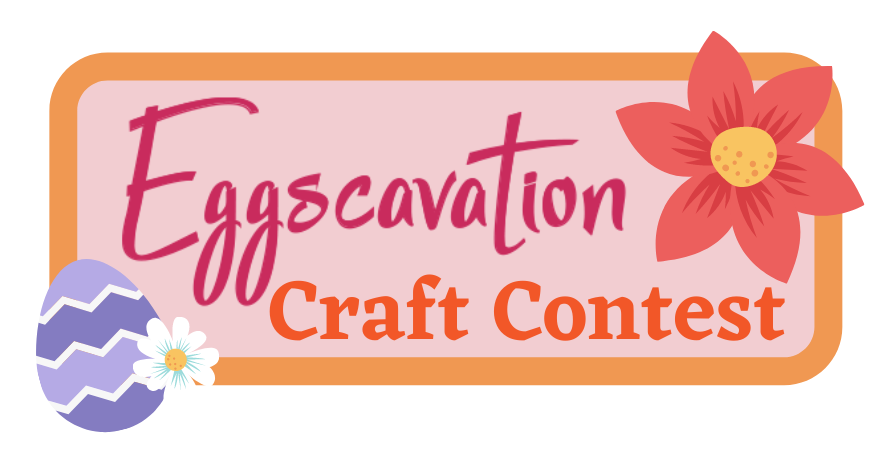 Local students, Kindergarten through 8th grade, are invited to participate in our virtual Eggscavation Craft Contest! Using paint and pasta noodles, students will create their own Easter egg. A downloadable egg template and step-by-step instructions are provided below.
All submitted artwork will be posted on the Garden Grove Parks and Recreation Facebook page and the community will be invited to judge the craft contest by "liking" their favorite art in each grade category: K-2nd; 3rd-5th; and 6th-8th. Judging will end Friday, April 2 and winners will be posted on social media. Winners in each grade category will receive a Target giftcard & chocolate bunny!
Please read through all contest guidelines before submitting your creation.
Eligibility
Local students in K-8th grades.
One entry per participant.
Age Categories
K — 2nd grade
3rd — 5th grade
6th — 8th grade
Important Dates
March 19: Contest Begins, Submission Form Opens
March 26 at 5:30 p.m.: Submissions Due, Voting Begins
April 2 at 4:30 p.m.: Voting Ends & Winners Announced
How to Enter
Submit artwork below.
Art must be submitted by 5:30 p.m., on Friday, March 26.
There is no entry fee.
Step-by-Step Instructions