Street Racers crash. Driver arrested for narcotics after brief foot chase.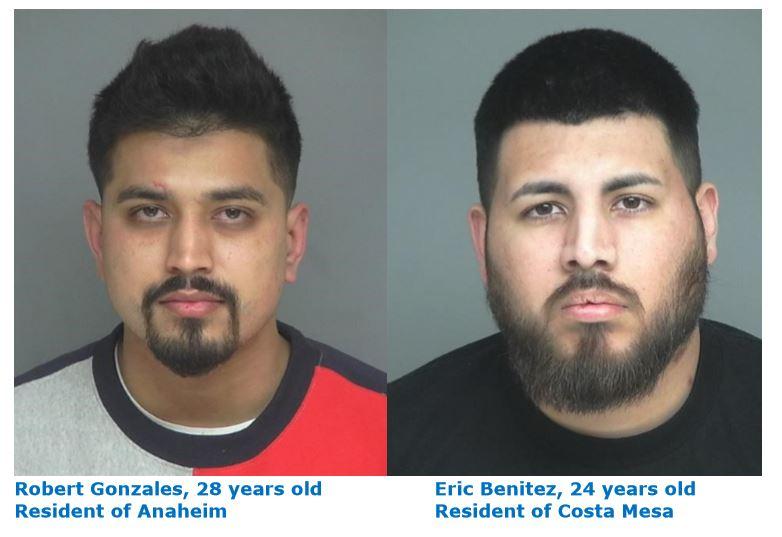 View Street Racers crash. Driver arrested for narcotics after brief foot chase. (PDF)
DATE: February 25, 2019
SUBJECT: Street racing crash-Narcotics arrest
LOCATION OF OCCURRENCE: 9th Street and Garden Grove Blvd.
DATE/TIME OF OCCURRENCE: February 24, 2019 at 8:04 p.m.
VICTIM: Withheld
SUSPECT(s): Robert Gonzales, 28 years old, resident of Anaheim
Eric Benitez, 24 years old, resident of Costa Mesa
NARRATIVE:
On 02/24/2019 at 8:04PM Garden Grove Police officers were sent to the intersection of 9th Street and Garden Grove Blvd. for a roll-over vehicle collision. Officers arrived and found a crash involving three vehicles. One of the drivers was seen running from the collision scene and officers chased him on foot. The male suspect, later identified as Robert Gonzales, attempted to discard a large bag of narcotics and began fighting with officers. After a brief struggle, the suspect was taken into custody.
Officers interviewed independent witnesses and learned Gonzales was driving a 2009 Black Mercedes and a second driver identified as Eric Benitez was driving a 2017 Black Dodge Charger. Both drivers were involved in a high speed street race westbound on Garden Grove Blvd. The vehicles crashed into each other and a third vehicle was also struck. One of the vehicles rolled over during the crash. The third vehicle was driven by an adult female and there were three minor children in her car. The female driver and the minor children had complaints of pain and were taken to a local hospital for treatment.
Robert Gonzales and Eric Benitez were arrested for being involved in a street race. Gonzales was also charged with possession/transportation for sale of narcotics, resisting arrest, and a probation violation.
One police officers sustained minor injuries during the altercation with Gonzales. The officer was treated at a local hospital for abrasions and a minor head injury. Three other police officers were exposed to the illegal narcotics that Gonzales attempted to discard and destroy.
If anyone saw the erratic driving prior to the crash, they are encouraged to call the Garden Grove Police Department.