Elderly woman found stabbed to death- Police seeking person of interest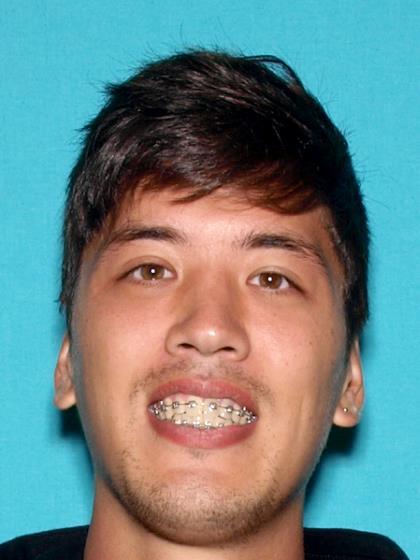 View Elderly woman found stabbed to death- Police seeking person of interest (PDF)
PRESS RELEASE-
DATE: August 7, 2019- Update 4:10 PM
SUBJECT: Homicide Investigation-Stabbing (UPDATE)
LOCATION OF OCCURRENCE: 14000 Blk. of Flower St., Garden Grove
DATE/TIME OF OCCURRENCE: August 6, 2019/ 9:43 PM
VICTIM: Wolff, Vivian, female Korean, 62 years old, Garden Grove
PERSON OF INTEREST: Warner, Jonathan Michael, 28 years old, Garden Grove (Son of the Victim)
DESCRIPTION: Male, Asian, 6'0", 165 lbs., short, possibly shaven brn hair, brn eyes, medium build
UPDATED NARRATIVE:
Detectives investigated the homicide through the night and learned additional details. The victim was renting a room at the residence and her 28-year-old adult son shared a room with her. He is identified as Jonathan Michael Warner. Warner has not been seen since Friday, 8-2-2019 and he is considered a person of interest as his safety has not been determined. Detectives would like to question him to ensure his safety and that of other family members. The last time the victim was seen alive was on Saturday, 8-3-2019 at 9:00 PM.
If anyone has information on Warner's whereabouts or information about this homicide, they are encouraged to contact Detective DesBiens of the Garden Grove Police Department at 714.741.5810
ORIGINAL NARRATIVE:
Garden Grove Police Officers responded to a call of a person found deceased in the 14000 block of Flower St. in Garden Grove. Officers arrived on scene and located a deceased female Asian adult in a bedroom of a residence with stab wounds.
Garden Grove Police Detectives responded and are handling the investigation as a homicide. Details are unknown at this time as to the identity of the victim, her relation to the residence, as well as any suspect information. Further information will be forth coming as the investigation is on-going.
Carl Whitney, Lieutenant
Professional Standards Division / PIO
O: 714.741.5786 W/C: 714.741.5871 24 Hour: 714.741.5704