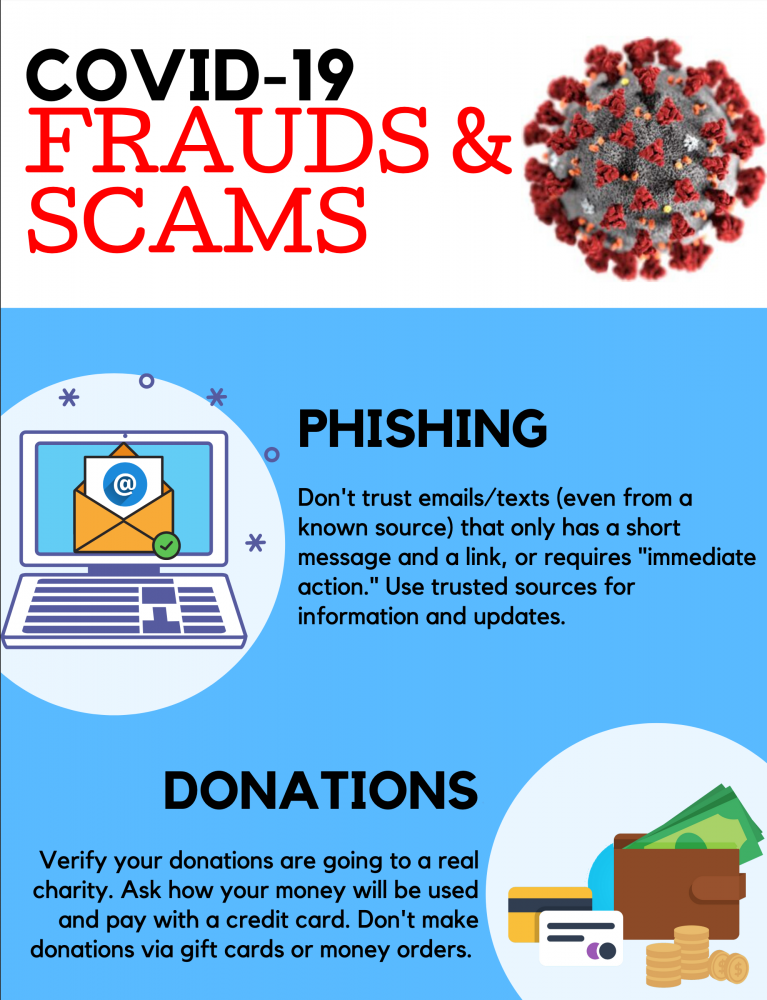 View COVID-19 Frauds & Scams (PDF)
The COVID-19 crisis has brought out the good in many people. Unfortunately, it has also brought out the worst in some. There are scammers that will take advantage of people's fears. They use phishing emails, robocalls or social media to spread misinformation to ask for donations, sell a product or get your personal information. With stimulus and unemployment checks due to go out, it creates more opportunities for these crooks.
Only use trusted sources for information and updates on the crisis. For local updates go to https://coronavirus.egovoc.com/ or http://ggcity.org/coronavirus
Don't trust emails or texts (even from a known source) that only has a short message and a link, just a link, or requires "immediate action".
There is currently no cure for COVID-19. Don't believe anyone claiming they have it.
Robocalls:
The Federal government will not ask you to pay a fee or processing charge to receive your stimulus check.
You will not need to provide your social security number, bank account or credit card number to receive payment.
Government agencies, healthcare providers, and utility companies will not solicit payments over the phone or text.
COVID-19 Test Scams:
There are no commercially available in-home COVID-19 tests that you can buy and there is no vaccine, yet.
Don't trust anyone who is at your door, claiming they can test you or your home for COVID-19.
Donation Scams:
Verify the organization you are donating to is a real charity, who has registered with the government.
Ask how your money will be used and pay with a credit card for security and tax record purposes.
Don't make donations via gift cards or money orders.
Mail thefts:
Check your mailbox regularly throughout the week.
Sign up for direct deposit, whenever possible.
Shred anything with your personal information on it, before throwing it out.
Check bank statements regularly for fraudulent activity.
Pay bills online or place directly into a Post Office box, INSIDE the Post Office.