Attempt murder suspect and vehicle of interest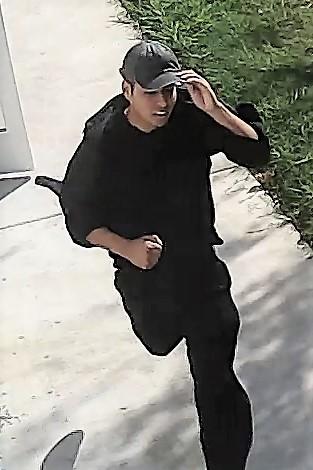 View Attempt murder suspect and vehicle of interest (PDF)
DATE: November 3, 2018
SUBJECT: Attempted Homicide of Elderly stabbing victim UPDATE
LOCATION OF OCCURRENCE: 13971 Harbor Blvd. McDonald's
DATE/TIME OF OCCURRENCE: October 27, 2018 @ 10:40 AM
SUSPECT(s) Male Hispanic, 20 to 30-years-old, 6' tall, medium build. Suspect was last seen wearing a black hat, black long sleeve shirt, and black pants.
Vehicle of Interest: Red Toyota Pick-up truck- standard cab
NARRATIVE: On October 27, 2018 at 1040 AM GGPD officers investigated an attempted homicide at the McDonald's restaurant located at 13971 Harbor Blvd. An 89-year-old male was attacked and stabbed in the restroom by an unknown suspect. The attempted murder was unprovoked and the motive in unknown.
As the victim was washing his hands, the suspect attacked the victim from behind, striking him in the head and stabbing him multiple times with a knife. The suspect did not say anything during the attack and did not rob the victim.
The suspect ran westbound and ended up at the Angelo's restaurant about a half mile away. The suspect asked a customer who was in the lot for a ride out of the area. We are looking for the driver/owner of the red Toyota pick-up truck who gave the suspect a ride.
The victim survived his injuries and is still in the hospital. Anyone with information on the suspect or the driver of the red Toyota pick-up is asked to call GGPD at 714741-5818.
Check this link for the video and original press release: http://bit.ly/GGPD664187update