Armed suspects rob a Garden Grove pharmacy at gunpoint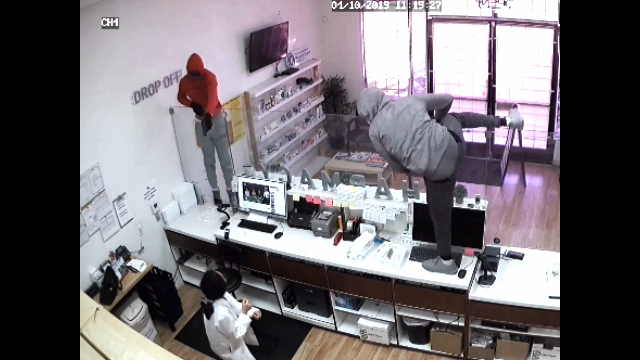 View Armed suspects rob a Garden Grove pharmacy at gunpoint (PDF)
PRESS RELEASE
DATE: May 21, 2019
SUBJECT: Armed Robbery at pharmacy- Video from April 10th, 2019
LOCATION OF OCCURRENCE: 8342 Garden Grove Blvd.-West Med Pharmacy
DATE/TIME OF OCCURRENCE: 4/10/2019 11:18 AM
VICTIM: West Med Pharmacy- Garden Grove
SUSPECT(s): (2) adult males, one armed with handgun
Suspect vehicle: Brown Kia Soul with tinted windows
NARRATIVE:
On 04-10-2019 at 11:18 AM two male suspects entered the West Med Pharmacy located at 8342 Garden Grove Blvd. and threatened the female pharmacist with a handgun. The suspects vaulted the counter and forced the female to lie on the floor.
The two suspects stole approximately $20,000 worth of prescription medications and cough syrups with codeine. They also took the cash register drawer.
The two suspects fled in a brown Kia Soul that was parked directly in front of the business. A third suspect acted as the lookout and getaway driver.
Pharmacy businesses across Orange and L.A. Counties have been targeted by different burglary and robbery crews over the past several months. This past weekend, three pharmacies in Garden Grove were burglarized. Detectives are looking for the public's assistance to help identify these armed criminals.
Anyone with information about this robbery or other pharmacy burglaries is asked to contact the Garden Grove Police Department Robbery Unit at 714-741-5837.
Surveillance Video of the robbery can be seen here: http://bit.ly/GGPDPharmacy211
Carl Whitney, Lieutenant
Professional Standards Division / PIO
O: 714.741.5786 W/C: 714.741.5871
24 Hour: 714.741.5704