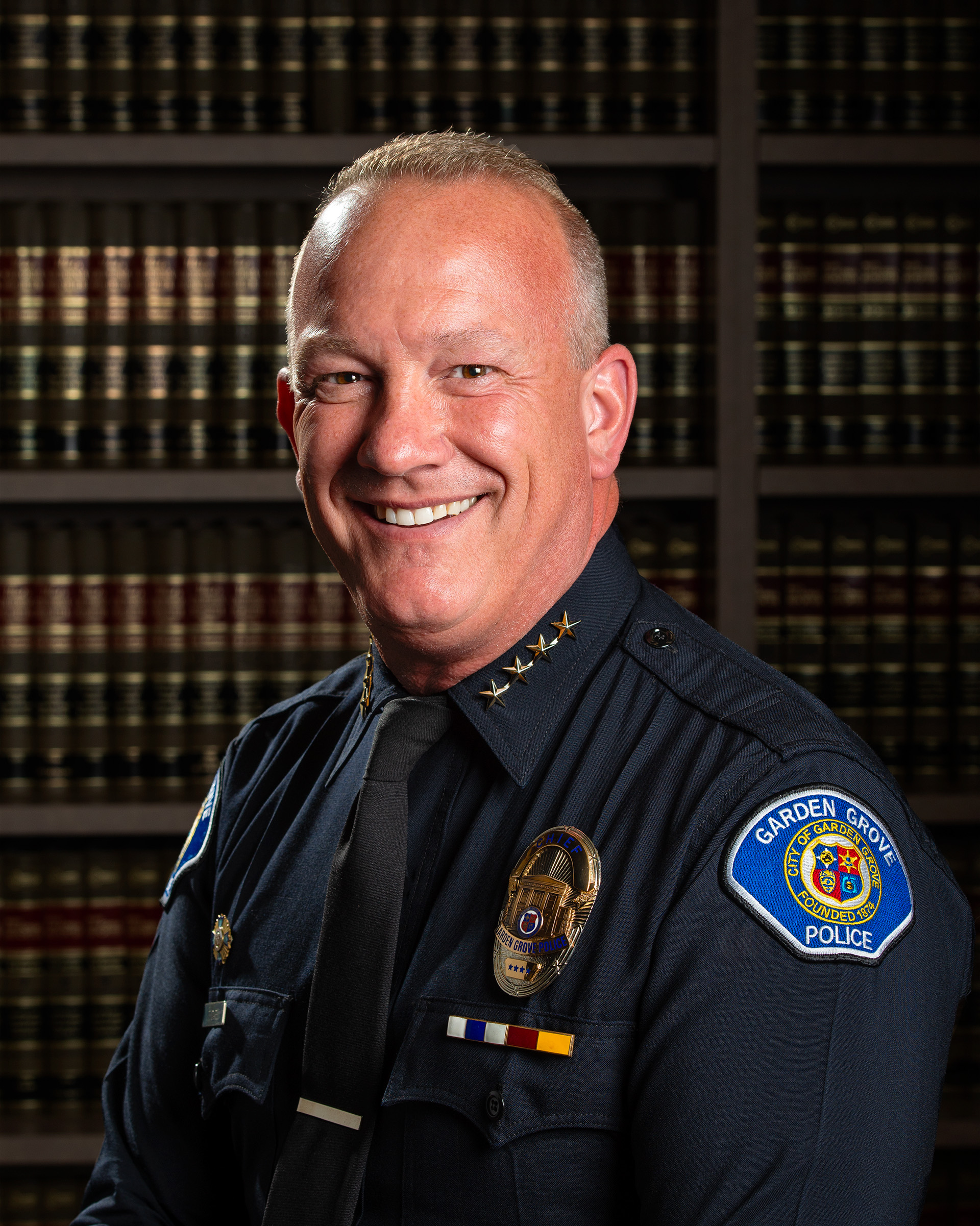 Garden Grove's 13th Chief of Police Tom DaRé was born, raised, and educated in the city he proudly serves. He assumed his duties as chief on April 20, 2019, following the retirement of former police chief Todd Elgin.
Chief DaRé began his career with the City of Garden Grove in 1990 as a police cadet. A year later, he became a reserve police officer, and in 1992, was hired as a police recruit. After working five years as a patrol officer, he became a master officer, working in the Special Investigations and Gang Suppression Units. In 2002, he was promoted to sergeant, and in 2015, became the East/West Patrol Division lieutenant in charge of the SRT (Special Resource Team) homeless task force, and the Grove District – Anaheim Resort area. In 2017, he was promoted to captain and assigned to managing the largest division of the police department that includes patrol, gangs, traffic unit, narcotics, and SWAT.
A graduate of Garden Grove High School, Chief DaRé received his Bachelor's degree from the University of Phoenix, and has obtained a number of professional credentials. He has been honored with numerous awards and commendations from the Garden Grove Police Department, including the Medal of Courage, Medal of Merit, and Class A Commendations.
He holds membership on a number of local service organization governing boards, such as the Boys and Girls Club of Garden Grove, the Garden Grove Community Foundation, and St. Columban School, and professional affiliations including the International Association of Chiefs of Police, the California Police Chief's Association, and the California Narcotics Officers Association.
His goal as police chief is to provide Garden Grove with enhanced community policing, exceptional customer service, and a focus on quality-of-life issues.
Chief DaRé is married to his high school sweetheart, Jeanine, and they have three children.
Date Hired
1990
Education
University of Phoenix
Garden Grove High School
Affiliations
Boys and Girls Club of Garden Grove
Garden Grove Community Foundation
St. Columban School
International Association of Chiefs of Police
California Police Chief's Association
California Narcotics Officers Association