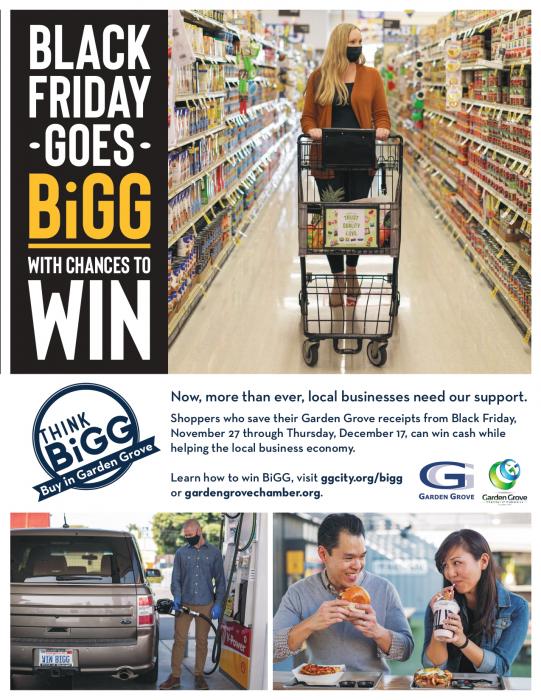 UPDATE: 12/21; 9:30 a.m.
Congratulations to the 2020 Black Friday Goes BiGG winners:
$250 cash - Sugeiry Reynoso (Ticket #871994)
$250 cash - Irene Magana (Ticket #871346)
$100 gift card to a local business - Robert Wislaki (Ticket #871824)
Thank you to everyone who participated in this year's shop local promotion!
---
Now, more than ever, Garden Grove businesses need the support of the community and shoppers could use some extra cash. From Black Friday, November 27 through Thursday, December 17, the City encourages the community to shop local, save their receipts, and enter the Black Friday Goes BiGG giveaway to win cash prizes.
When shoppers collect $50 in total register receipts from any Garden Grove business, including restaurants, gas stations, and grocery stores, they'll receive one raffle ticket towards the opportunity to win $250 cash or a $100 gift card to a local establishment of their choice.
Think BiGG - Buy in Garden Grove
To receive the raffle tickets, receipts must be brought to the Garden Grove Chamber of Commerce, located at 12866 Main Street, Suite 102, near the corner of Acacia Parkway and Main Street, before 1:00 p.m. on Thursday, December 17.
Raffle tickets will not be available at business establishments.
The first 100 participants to turn in their receipts will receive a free gift.
If purchases were made from a Buy in Garden Grove business or Garden Grove Chamber of Commerce member, participants will receive an additional raffle ticket. Visit ggcity.org/bigg or gardengrovechamber.com for a list of participating businesses.
Three raffle tickets will be chosen and the winning names and raffle ticket numbers will be posted on the City's and Chamber's websites and social platforms on Monday, December 21. Two winners will receive $250 cash, and one winner will receive a $100 gift card.
Winners will have 30 days to claim their prize from the Garden Grove Chamber of Commerce. Participants must be at least 18 years of age to win. Only one prize per winner.
For over 10 years, the City has encouraged residents to support the local business community through the Buy in Garden Grove program, which helps to keep needed tax dollars in the city for crucial resources like public safety, roads, parks, and other quality-of-life needs.
There is no cost to become a Buy in Garden Grove member. Businesses can sign up at ggcity.org/bigg.
For more information, visit ggcity.org/bigg or contact the Office of Community Relations at (714) 741-5280 or the Garden Grove Chamber of Commerce at (714) 638-7950.