Whittier Police Chief, Father of Murdered Palm Springs Officer Share Remembrances at 30th annual Police Memorial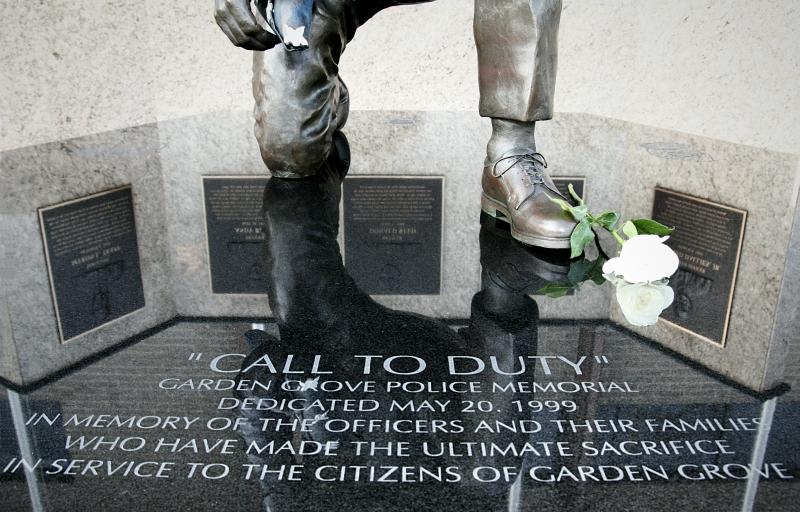 Honoring Garden Grove's "Fallen Five" –the five Garden Grove Police Officers killed in the line of duty—takes a different perspective at this year's Police Memorial. The 30th Annual Memorial takes place on Thursday, May 18, 2017, at 5:00 p.m., in front of Garden Grove Police Headquarters, at 11301 Acacia Parkway.

This year, the program will highlight two guest speakers, Whittier Police Chief Jeff Piper, and David Kling, a retired officer and father of Palm Springs Officer Lesley Zerebny, who was murdered last year. Each will recount their individual experiences and memories that touch on the personal lives as well as professional roles of the law enforcement officers.

For three decades, the annual ceremony has brought community and law enforcement together in remembrance of Garden Grove's "Fallen Five," Sergeant Myron L. Trapp, Officer Andy Reese, Officer Donald F. Reed, Officer Michael Rainford, and Master Officer Howard Dallies, Jr.

"These brave men were husbands, fathers, brothers, sons, and friends with unique dreams and goals for their future. We should remember that first, before we remember them as officers. Their sacrifice goes far beyond what it says on a plaque," says Garden Grove Police Chief Todd Elgin.

Miss Garden Grove 2017 Missy Mendoza will sing the national anthem and the Bolsa Grande High School Choir will perform various selections. The public ceremony also includes a formal presentation to surviving family members.

For more information, contact the Garden Grove Police Department at (714) 741-5901.