State of the City: Strong Hotel Performance, Quality of Life; Economic Challenges Ahead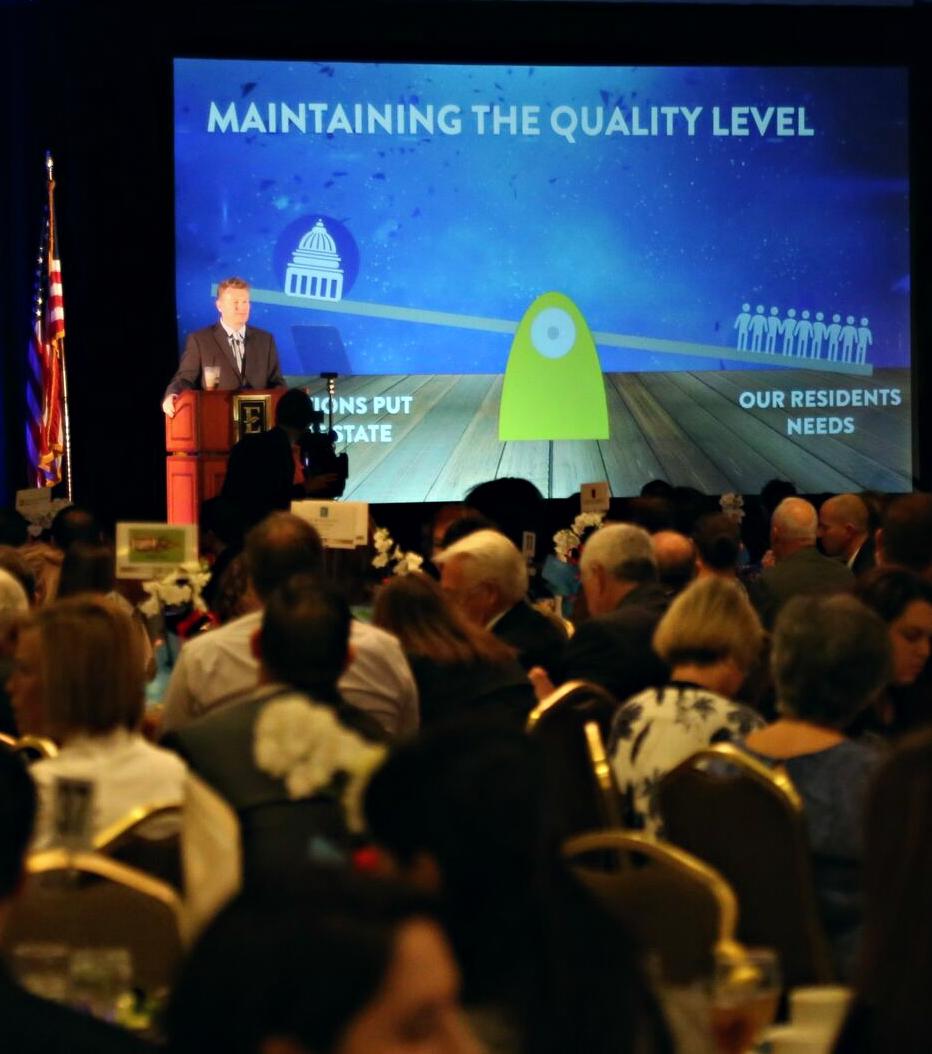 Another sell-out crowd assembled last Wednesday, this year at the
Grove District
's
Embassy Suites
hotel, to hear Garden Grove Mayor Steve Jones deliver his second State of the City address. While the Mayor highlighted impressive returns from hotels last year, specifically the
Great Wolf Lodge Southern California
, he also spoke earnestly about economic challenges arising from homelessness, aging infrastructure, and Sacramento money-grabs. The Mayor also made several major development announcements that included the "Rusty Skeleton" on Garden Grove Boulevard.
Following an introductory video that featured unexpected cameo appearances by Congressman Lou Correa, Orange County mayors, and celebrities, Mayor Jones opened his speech by describing Garden Grove as a city of "hope and new beginnings." Mentioning events that support a citywide re-branding campaign, the Mayor emphasized the City Council's commitment to "creating a more vibrant future for this city than anything (you've) ever experienced in the past."
Points of discussion included the City's transition to district representation; the critical role of public safety; and a recent community survey showing 90% of residents commending the excellent work of the fire and police departments, and two-thirds pleased with Garden Grove's high quality-of-life.
According to the Mayor, creating a sense of identity for the City, or "placemaking," included exploring different approaches to alternative transportation; recent business openings on Historical Main Street; holding the
High & Mighty
music festival featuring The Dirty Heads and Sublime with Rome; and marking the 5th anniversary of the Re:Imagine Garden Grove campaign in 2019.
Major announcements included a list of the new eateries setting up shop in
Steelcraft Garden Grove
, an outdoor urban eatery built from recycled shipping containers, located on Euclid Street, near Garden Grove City Hall. Groundbreaking for Steelcraft Garden Grove is set for March 5.
More breaking news were the two new hotel brands that will occupy the 4.3-acre, $400 million "high-lifestyle" resort project site on Harbor Boulevard next to Target, considered the City's largest development to date: Le Meridien Hotel by Marriott, and Kimpton Hotel.
In a lighter moment, the Mayor divulged, "The most common question I get asked on a regular basis is, 'Hey, what's going on with that big rusty skeleton near Brookhurst and Garden Grove Boulevard?'" referring to a privately-funded, 90-foot steel structure left unfinished for nearly a decade due to numerous setbacks. According to the Mayor, the project, now moving through the City's planning process, would yield approximately 400 new affordable apartment units for seniors, and nearly 12,000 square-feet of retail/commercial space.
Talking about the City's financial state, the Mayor praised the arrival of the Great Wolf Lodge Southern California, surpassing initial first-year forecasts by generating over $6 million to the City's coffers.
"For the last two fiscal years, Transient Occupancy Tax has increased by 20%, totaling $25 million, which represents nearly one-quarter of the top-line revenue coming into our General Fund," he announced.
Yet, despite the City's strong successes with development projects, the Mayor explained the heavy challenges weighing on Garden Grove's tradition of fiscal self-reliance and efficiency, making it difficult to continue "doing more with less."
"The City continues to contend with a nagging structural deficit. And, with increasing employer-required contributions to the PERS system, the deficit is likely to increase over the coming years." He added, "Over the last seven years, Sacramento has taken millions of dollars in local tax money that would otherwise support our local police and fire departments, fix our infrastructure, and contribute towards preserving our high quality-of-life."
The Mayor explained the City Council's strategy was to implement an even leaner, two-year budget that would include a 5% cut to City departments; steady commitment to economic development; and maintaining the community's trust by staying on a "safe path."
In closing, Mayor Jones talked about development opportunities for the 100-acre Willowick Golf Course—owned by the City of Garden Grove, and located in Santa Ana—calling it, "our most exciting, most outrageous endeavor in store for 2018."
"If we are able to set politics aside and keep our eyes on the prize, redevelopment of the Willowick Golf Course will become the single biggest financial windfall for BOTH cities," he said.