Seeking Local College Graduates for Recognition Event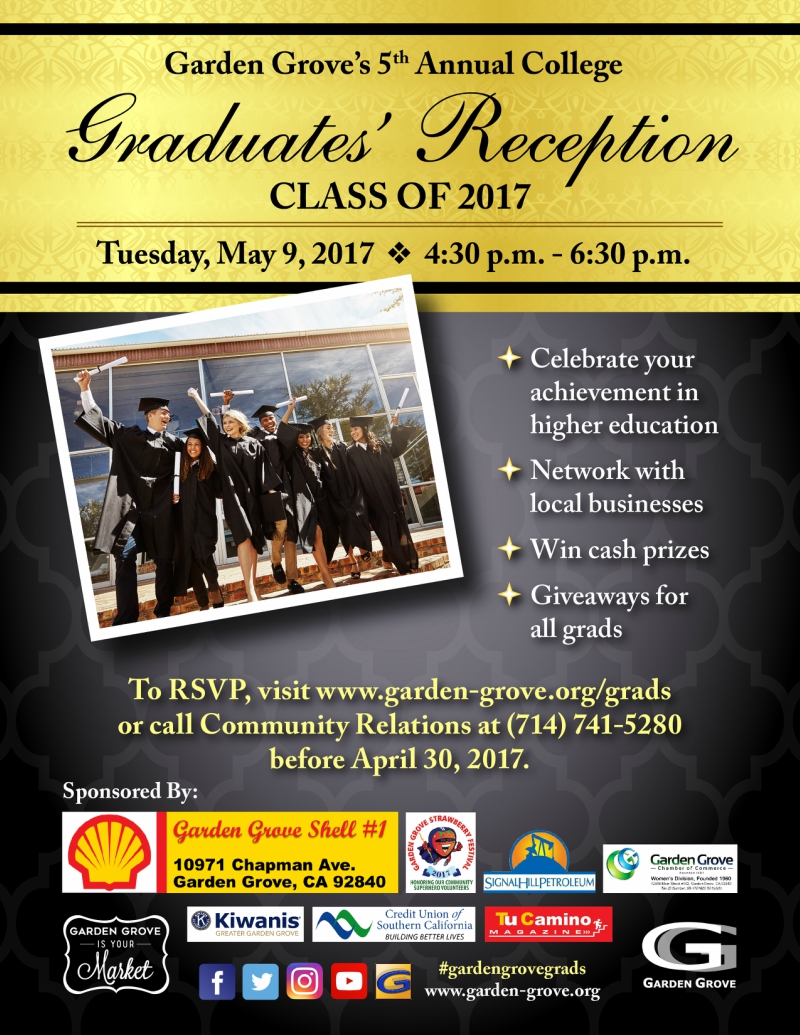 The City is seeking names and information from Garden Grove residents who are graduating this year with an undergraduate or post-graduate academic degree. Graduates who submit their information will be invited to the 5th annual Garden Grove College Graduates' Reception on Tuesday, May 9, 2017, from 4:30 p.m. to 6:30 p.m. The event recognizes local college graduates for their outstanding achievements in higher education.
The private reception, hosted by Mayor Steve Jones and the Garden Grove City Council, includes an awards ceremony, catered dinner, giveaways, and the chance to network with key businesses and organizations in the community. Each graduate will also be entered for a chance to win an Apple iPad, and a $500, and two, $250 cash drawings.

At the conclusion of the reception, the graduates and their guests will be invited to attend the Garden Grove City Council meeting to receive a Community Spotlight recognition.
To RSVP for the free event, visit www.garden-grove.org/grads, or contact the Office of Community Relations at (714) 741-5280 or email communityrelations@garden-grove.org. The deadline to submit information is Sunday, April 30, 2017.

The City would like to thank the event title sponsor, Garden Grove Shell #1, and all event sponsors for their generous contributions.
To view photos from previous events, visit the City's Facebook page at Garden Grove City Hall.