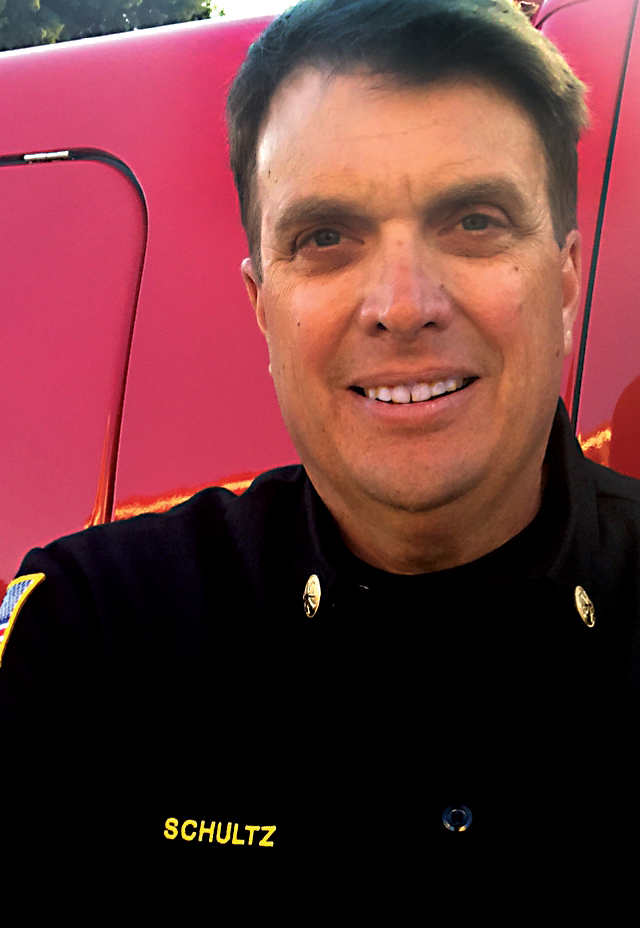 Tom Schultz, Deputy Chief of Operations for the Fullerton and Brea Fire Departments, has been appointed as Garden Grove's 13th Fire Chief. Schultz, a 30-year Fire service veteran, will assume his new position with the City of Garden Grove on April 29, 2015. The announcement was made by Garden Grove Interim City Manager Allan L. Roeder earlier today.
"I'm very excited about building on the great foundation of the Garden Grove Fire Department and working with the department members, staff, city officials, and community to accomplish great things in an inclusive and collaborative manner," says the new chief.
Schultz began his Fire career at the age of 21 as a Fire Prevention Specialist with the Fullerton Fire Department. He soon became a firefighter and a firefighter paramedic, which ascended him to captain status. After 20 years with the department, he became the Training and Disaster Preparedness Officer, responsible for the department's overall professional Fire training and for updating and implementing the citywide disaster preparedness program.
In 2007, he was promoted to Shift Battalion Chief, overseeing the daily activities of the department, including obtaining and managing grant funding, and directing the department's Urban Search and Rescue program.
In 2011, while serving as Deputy Chief of Operations, the Fullerton and Brea Fire Departments consolidated their command staff and placed Schultz at the helm of facilitating the management integration of both departments. He also worked extensively with both Fullerton and Brea labor groups, authored new policies and developed several new programs, and served as acting Fire Chief.
For more than 25 years, Schultz has been an instructor at Santa Ana College, training college students and academy recruits in Fire technology. He has been very active in regional committees and has been the past president of both the Orange County Fire Chiefs Training Officers and Operations Sections groups and chaired the committee that developed the county's Active Shooter Policy, now being used by all Orange County fire departments. He holds a Bachelor's Degree in Applied Sciences from Brandman University.
After an established 30-year City career, Schultz explains why he chose to make the transition to Garden Grove.
"Garden Grove has a rich history of serving the community with pride. By all of us working together, I know we can create a positive impact and accomplish so much. I'm excited and eager to get on board."
Commenting on Schultz's selection as the new Garden Grove Fire Chief, Interim City Manager Allan L. Roeder says, "I am confident that with Tom's leadership skills and the talent Garden Grove possesses, from entry level firefighter through Division Chief, the residents can be proud of their Fire Department."
The interim City Manager added, "I would also like to express my appreciation for everyone having faith and confidence in the professional recruitment we conducted that resulted in Chief Schultz's selection. With the challenges the City and its fire department faced over the past year as backdrop, we could not have accomplished this without the participation of the City Council, the Firefighter's Union, our executive personnel, and the diligence of our Human Resources team supported by executive recruiter Bob Murray & Associates."
Chief Schultz has been married for 27 years to his high school sweetheart, Kim, and they have two college-aged daughters and a son. Besides spending time with his family, he also enjoys mountain biking and fishing.
View the Spanish translation.
View the Vietnamese translation.