GGPD Winter DUI Mobilization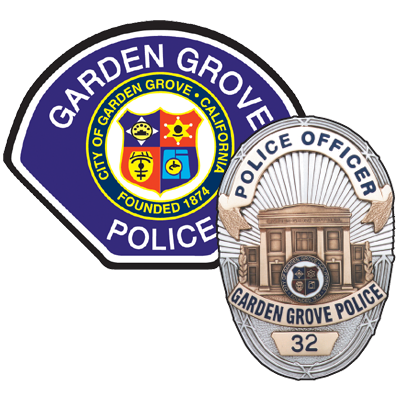 The holidays are a festive time, and endless parties with friends, families, and coworkers can easily lead to drinking too much alcohol. Drinking and driving accounts for one-third of vehicle-related fatalities in the United States. Keep your holidays merry and bright by remembering to always drive sober, no matter what. Review these facts and sober-driving tips to see you through the New Year.
From now through Monday, January 1, 2018, the Garden Grove Police Department is partnering with the California Office of Traffic Safety, the National Highway Traffic Safety Administration (NHTSA), and law enforcement nationwide for the "Drive Sober or Get Pulled Over" enforcement campaign to help keep impaired drivers off the road.


This holiday season, expect to see an increase of DUI/Drivers License Checkpoints and law enforcement patrols looking for drunk or drug impaired drivers. If they catch you driving under the influence, you will be pulled over and arrested. Don't put yourself, your passengers, and others at risk this holiday season by driving impaired. Remember: Drive Sober or Get Pulled Over.

According to NHTSA, 37,461 people were killed in motor vehicle traffic crashes in 2016, and 28 percent (10,497) of those fatalities were in crashes during which a driver had a blood alcohol concentration (BAC) over the legal limit of .08.

California witnessed 1,059 DUI deaths by drivers with a BAC at .08 or above.

Drive Sober or Get Pulled Over


Impaired driving is illegal, and the consequences can prove deadly to you and those around you. If you drive while impaired, you could be arrested or involved in a car crash, potentially injuring or killing you, your passenger, or another road user. Do you want these devastating consequences resting on your shoulders? Driving drunk and or drug impaired is never worth the risk.

In recent years, California has seen an increase in drug-impaired driving crashes. The Garden Grove Police Department supports the new effort from the Office of Traffic Safety that aims to educate all drivers that "DUI Doesn't Just Mean Booze." If you take prescription drugs, particularly those with a driving or operating machinery warning on the label, you might be impaired enough to get a DUI. Marijuana use can also be impairing, especially in combination with alcohol or other drugs, and can result in a DUI.

The legal and financial costs of a DUI can be significant. If you are arrested for a DUI, you could face jail time, losing your license, and expenses including higher insurance rates, attorney fees, court costs, car towing and repairs, and lost wages due to time off from work. There's also the embarrassment and consequences of telling your family, friends and employers of your arrest.

Financial Impacts


On average, a DUI can set you back $10,000 in attorney fees, fines, court costs, lost time at work, higher insurance rates, car towing and repairs, and more.

The financial impact from impaired driving crashes can be devastating. Based on 2010 numbers (the most recent year for which cost data is available), impaired-driving crashes cost the United States $44 billion annually.

Celebrate with a Plan


Remember that it is never okay to drive drunk or drug impaired. Even if you've had only one alcoholic beverage, smoked pot, or mixed a drink with drugs or medication, designate a sober driver or plan to use public transportation to get home safely.

Drivers are encouraged to download the Designated Driver VIP, or "DDVIP," free mobile app for Android or iPhone. The DDVIP app helps find nearby bars and restaurants that feature free incentives for the designated sober driver, from free nonalcoholic drinks to free appetizers and more.

Use your community's sober ride program.

'Report Drunk Drivers, Call 911!'

See someone who is about to drive under the influence? Take the keys away and make arrangements to get your friend home safely.

For more information about the Drive Sober or Get Pulled Over campaign, visit https://www.trafficsafetymarketing.gov/.