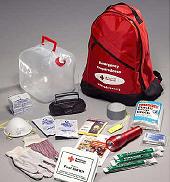 The City of Garden Grove is offering a disaster preparedness program through its C.E.R.T. (Community Emergency Response Team) Training Academy. C.E.R.T. is a volunteer organization with the Garden Grove Fire Department that provides training to prepare for, respond to, and recover from a disaster. C.E.R.T. members are also trained to assist first responders in the event of a disaster.
The Academy starts on Saturday, September 24, 2011 at 8:30 a.m. All classes will be held on Saturdays from 9:00 a.m. to 4:00 p.m. at North Net Fire Training Center located at 2400 E. Orangewood Avenue in Anaheim. A disaster simulation and graduation will be held on Saturday, October 29, 2011, from 9:00 a.m. to 4:00 p.m.
Class subjects include disaster preparedness, I.C.S. (Incident Command System), fire safety, light search and rescue, medical operations, CPR, terrorism, radio communications, and disaster psychology. There will be a $40 retainer fee for the CPR class, payable on the first day and refunded on the last day of class, once the student completes and graduates the Academy.
To qualify for the C.E.R.T. Training Academy, participants must be at least 18 years old and live and/or work in the City of Garden Grove.
For more information, please contact C.E.R.T. Volunteer Recruiter, Danny Rios, at (562) 755-9079 or email to ggcertrecruit@gmail.com, or download an application through the CERT link at www.ci.garden-grove.ca.us.