Garden Grove City Webpages Get a New Look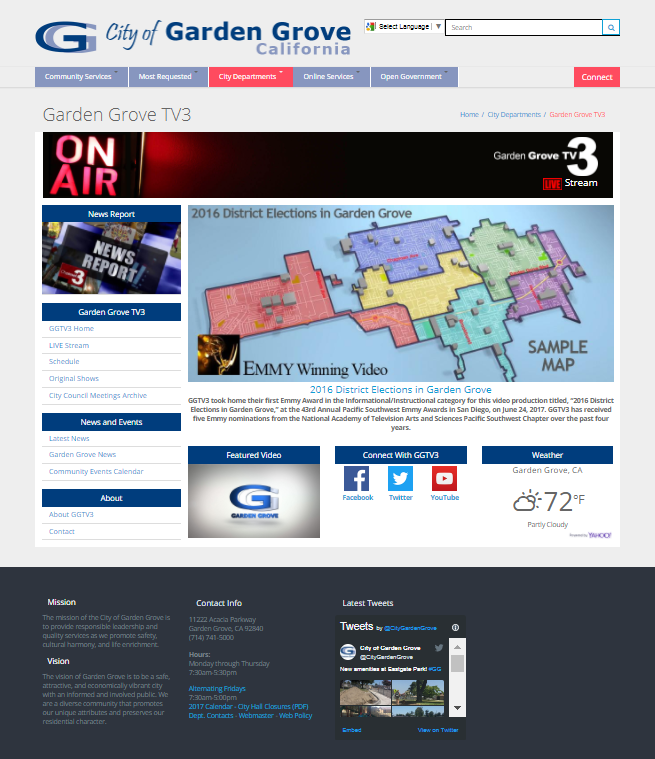 Earlier this year, several pages on the City's website underwent redesigns to content and look. The newly redesigned webpages include District Election Mapping, Garden Grove Animal Care Services, Garden Grove TV3, and Community and Economic Development Department.
"The City's website is the first impression people have of Garden Grove, so we make it one of our top priorities to offer users content that is visually appealing and user-friendly. The website is overhauled every two to three years, but updates are made regularly," said Charles Kalil, Information Technology Director.
In the
District Election Mapping webpage
, residents can now search their home address for their district number, street sweeping and trash pick-up dates.
New to the
Garden Grove Animal Care Services webpage
is the "Found Animals Listing" link under the "Lost and Found Animals" tab. The webpage gives pet owners the opportunity to check for their lost pet. The "Reunited Animals" tab shows pets that have been recently reunited with their owners after being found by Animal Care Services or dropped off at Orange County Humane Society by Good Samaritans.
The
Garden Grove TV3 webpage
was revamped with new features, including easy to find links to their award-winning video productions.
The
Community and Economic Development Department
divisions: Planning Services, Building Services, Neighborhood Improvement, Code Enforcement, and Economic Development webpages were reorganized to make information more accessible and to allow the divisions to highlight important components.
New to the
Code Enforcement webpage
is the "What Types of Codes Do We Enforce" page and the "Frequently Asked Questions (FAQ's)" page to direct residents to appropriate channels for their concerns.
The
Economic Development webpage
has links to the City's completed, current, and upcoming projects. The tourism link takes users to the
Grove District Anaheim Resort
and
Visit Anaheim
.
Next year, the City will redesign the website with inputs from City employees and community focus groups, comprised of Garden Grove residents and business owners.
For more information, please contact the Information Technology Department at (714) 741-5225.