County's $25M Twin Lakes/Basin Facelift in Full Operation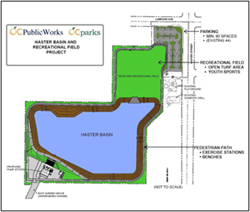 It may still be over a year away, but come November 2013, Twin Lakes Freedom Park will be showing off a fresh look and new amenities, thanks to a $25 million county- and state-funded project, led by Orange County Public Works. Questions or comments regarding the project should be directed to the County of Orange, and not the City of Garden Grove.
The Haster Retarding Basin, Pump Station, and Recreational Field Project broke ground on June 29, 2012 at Twin Lakes Park. Funding came in the form of $18 million in state grant funds, and $7million in County park funds.
First on the county's to-do list has been the reconstruction of the existing retarding basin to increase its capacity. The basin, or lake located in the park, serves as a flood control facility that temporarily stores storm water. Along with the retarding basin will be the construction of a storm water pump station and filling in a portion of the basin to create a two-acre recreational field for two soccer areas. Soon after will be the construction of a new and expanded parking lot, a jogging trail made of recycled decomposed granite, four new modern park shelters, exercise stations, and bike racks. New landscaping around the perimeter of the park will incorporate new and existing shade trees.
The result of the project will be added flood protection for the community along with functional and aesthetic improvements for park users. For details, visit the County of Orange or call (714) 667-3287.