City Expresses Sorrow, Support, Solidarity for Local Victims, Families of Vegas Shooting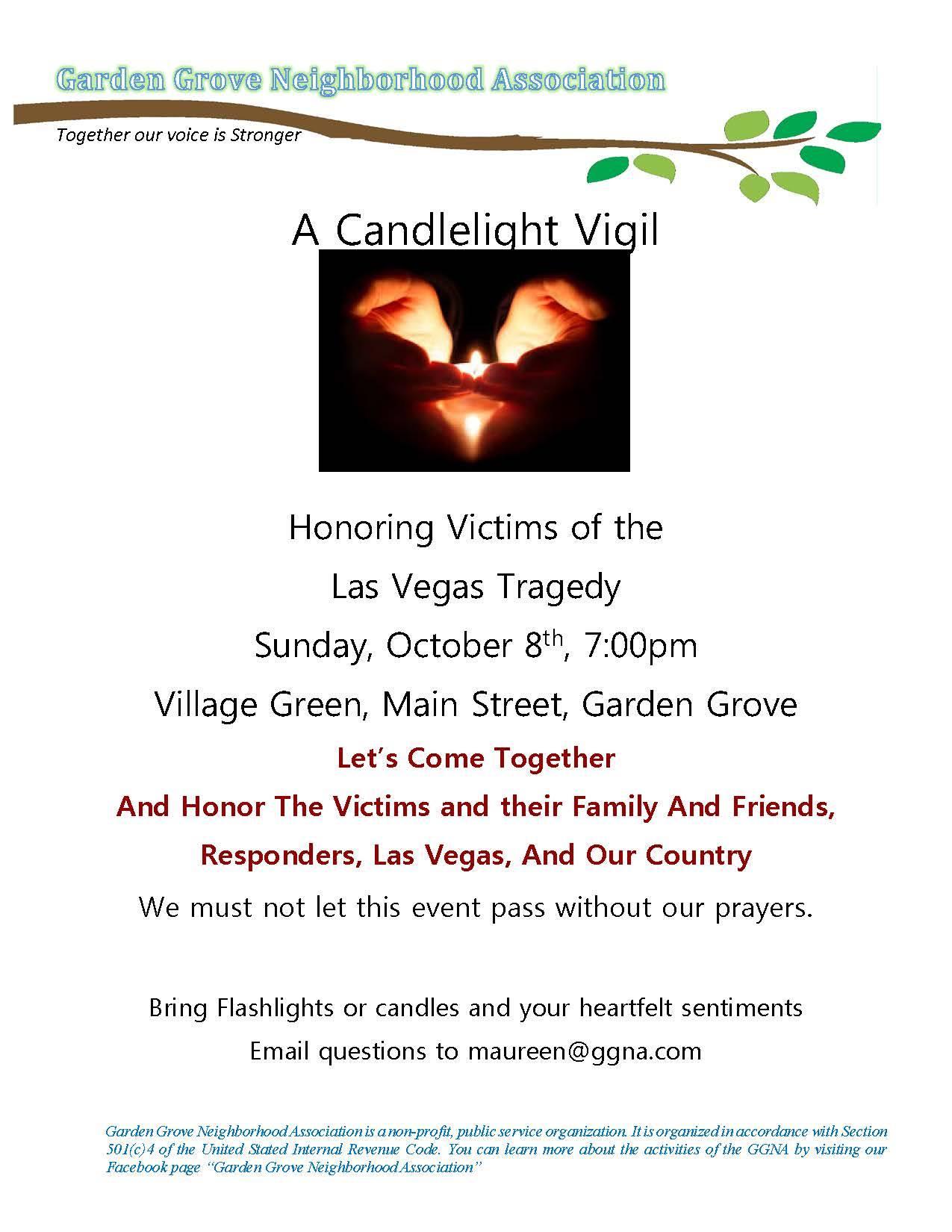 The aftermath of last Sunday's mass shooting in Las Vegas left cities across the nation grieving over the devastating loss of life, especially those from their own communities. Garden Grove suffered at least two fatalities, some injured, and others able to escape physically unharmed.
"When you hear about these horrific shootings, you immediately worry that someone you knew was there. And unfortunately, that was the case with me, as it was for many people in our community," says Garden Grove Mayor Steve Jones.
Jones refers to a friend from the west Garden Grove area that was injured from the attack while trying to save others under fire.
To date, the City is aware of two local fatalities: Carrie Barnette, a 2001 Pacifica High School graduate, and Candice Bowers, a Garden Grove resident.
"This is a time to mourn our tragic loss, but also to give comfort to family and friends left behind, and to stand together as a community to honor their lives," says Garden Grove City Manager Scott Stiles.
The City will be joining with members of the community in remembering and honoring the victims of the Las Vegas shooting during a candlelight vigil on Sunday night. The gathering, organized by the Garden Grove Neighborhood Association, takes place on October 8, at 7:00 p.m., in Village Green park, at the corner of Main and Euclid Streets.
Mayor Jones will offer words of comfort at the event. The City strongly encourages the community to attend.
At next Tuesday's Garden Grove City Council meeting, the City Council will observe a moment of silence at the start of the meeting, followed by a reading of the names of those killed and injured in the shooting with ties to Garden Grove. The meeting begins at 6:30 p.m., in the Council Chamber of the Garden Grove Community Meeting Center, located at 11300 Stanford Avenue.
The meeting will be live-streamed
HERE
, or can be viewed directly from the
GGTV3 YouTube channel
. Viewers can tune in to share in the City's moment of silence.
Those wishing to have the names of other victims read at the Garden Grove City Council meeting are asked to send the names, along with a brief bio, before 5:00 p.m. on Monday, October 9. Names can be emailed to
communityrelations@garden-grove.org
, sent via private message to the
City's Facebook
, or by calling the Office of Community Relations at (714) 741-5280.
Mayor Jones concludes, "Our city's deepest strength and spirit comes from the people who love this community and will always be there to support it, especially during the hard times when it's needed the most."