Citrus Greening Disease Discovered in Garden Grove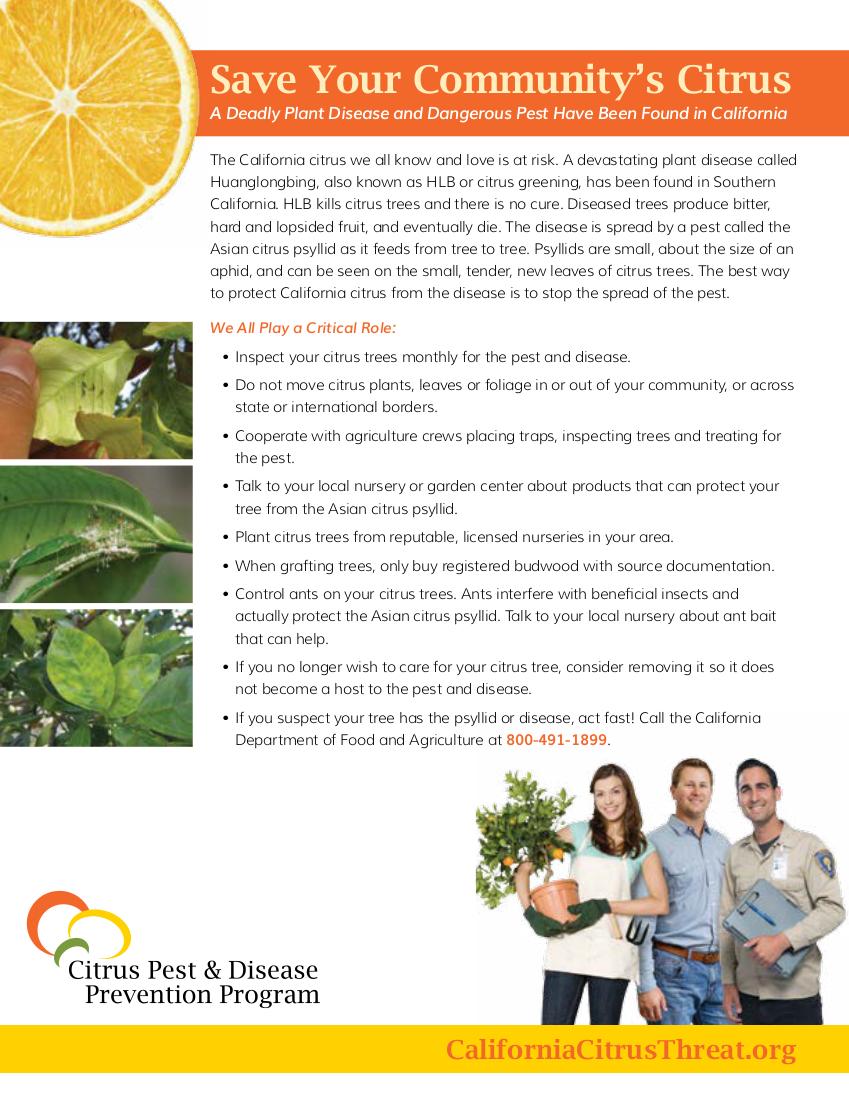 The
California Department of Food and Agriculture
(CDFA) and the
United States Department of Agriculture
have discovered Huanglongbing, also known as HLB or citrus greening disease, in Garden Grove. HLB kills citrus trees and has no cure. The disease is not harmful to humans or animals.
Anaheim has the highest incidences of confirmed HLB-infected citrus trees in Orange County, followed by Garden Grove.
The HLB quarantine map for Orange County is available online at
cdfa.ca.gov
.
Agricultural officials are going door-to-door to access backyard citrus trees to inspect for the presence of the Asian citrus psyllid, a small insect that feeds on citrus tree leaves, causing HLB to spread.
The City of Garden Grove asks residents to cooperate with the CDFA and the United States Department of Agriculture with their detection and eradication efforts.
Treatments are the most effective way to protect citrus trees from the Asian citrus psyllid, which helps prevent the spread of HLB. Officials will have a badge or patch indicating their affiliation with CDFA, will never ask to access the inside of the home, and will never ask for payment for their services. For specific questions about the treatments, please call (800) 491-1899.
If trees test positive for HLB, they will be removed to prevent the spread of HLB. The removal will be done by agricultural officials at no cost.
Signs of citrus greening disease are: asymmetrical patterns of yellow leaves, color inversion, and corky veins.
If you suspect your tree has HLB, call the CDFA hotline for a free inspection at (800) 491-1899. For images and descriptions of the Asian citrus psyllid and HLB, visit
CaliforniaCitrusThreat.org
.
For more information about Asian citrus psyllid, visit the
Citrus Greening Disease webpage
.
Press Release:
Flyers: