3rd annual Open Streets Event April 1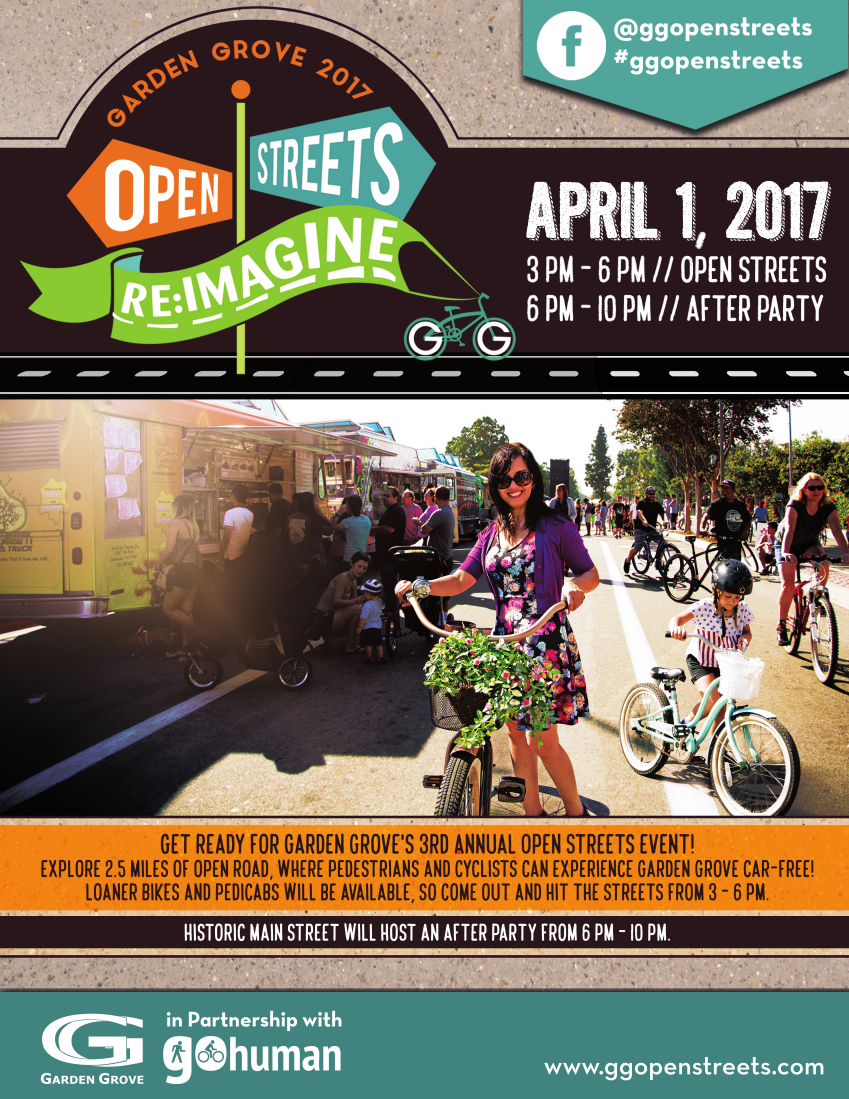 Garden Grove streets become car-free for the 3rd annual Open Streets event on Saturday, April 1, 2017, from 3:00 p.m. to 6:00 p.m. This year, the route travels from West Street to Garden Grove Boulevard and Acacia Parkway. An After Party will continue on Historic Main Street, from 6:00 p.m. to 10:00 p.m.
Plans are in the works for a fun, interactive event, where pedestrians and cyclists can explore a car-free Garden Grove. The event will include a 2.5-mile route for biking and walking that will demonstrate options for active transportation enhancements in the community. It will also feature a zip line, rock climbing wall, 4-D interactive chalk art, food trucks, prizes, and more!
At 6:00 p.m., Historic Main Street will light up with a live band, beer garden, and strolling performers.
The City has partnered with
Go Human
to produce the event. Go Human is a campaign to reduce traffic collisions in Southern California, and to encourage people to walk and bike. Their goal is to create safer and healthier cities through education, advocacy, information sharing, and events that help residents re-envision their neighborhoods.
The event is funded in conjunction with the
Southern California Association of Governments
(SCAG). SCAG is the nation's largest metropolitan planning organization, representing six counties, 191 cities, and more than 18 million residents. SCAG undertakes a variety of planning and policy initiatives to plan for a livable and sustainable Southern California.
Additional programming, including live entertainment, demonstrations, prizes, and activities will be announced in the weeks to follow.
For event details and updates, visit www.ggopenstreets.com, or
@ggopenstreets on Facebook
.
Press Releases: