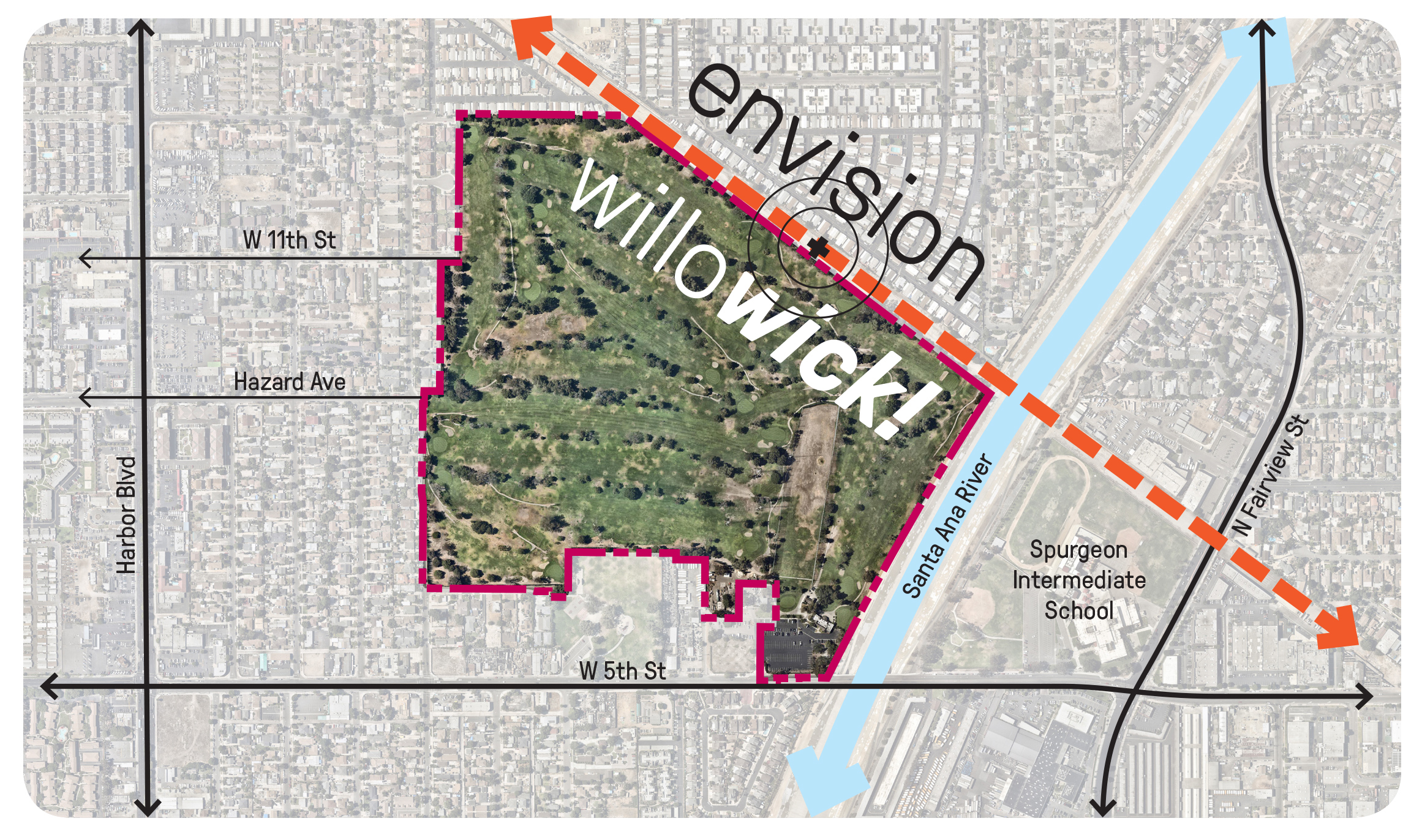 The Cities of Garden Grove and Santa Ana invite you to help develop a Vision Plan for the redevelopment of the Willowick Golf Course site. This process will explore conceptual land use options that are formed by community and stakeholder collaboration and input facilitated by SWA, the consultant selected via the RFP process for the visioning of Willowick. The Vision Plan will be used to guide the solicitation of development plans for Willowick. The Willowick Golf Course site, located in the City of Santa Ana, is situated on 5th Street, adjacent to the Santa Ana River, at 3017 W 5th Street. Owned by the City of Garden Grove, the property is currently developed as an 18-hole golf course. The site is adjacent to the Santa Ana River on the east, and the Pacific Electric (PE) Right-of-Way on the north, and abuts Garden Grove's Buena Clinton neighborhood and the Willowick Royal Mobile Home Park. To the east across the Santa Ana River, is Spurgeon Intermediate School and Spurgeon Park. Directly to the south, is the Cesar Chavez Campesino Park.
Upcoming Community Workshop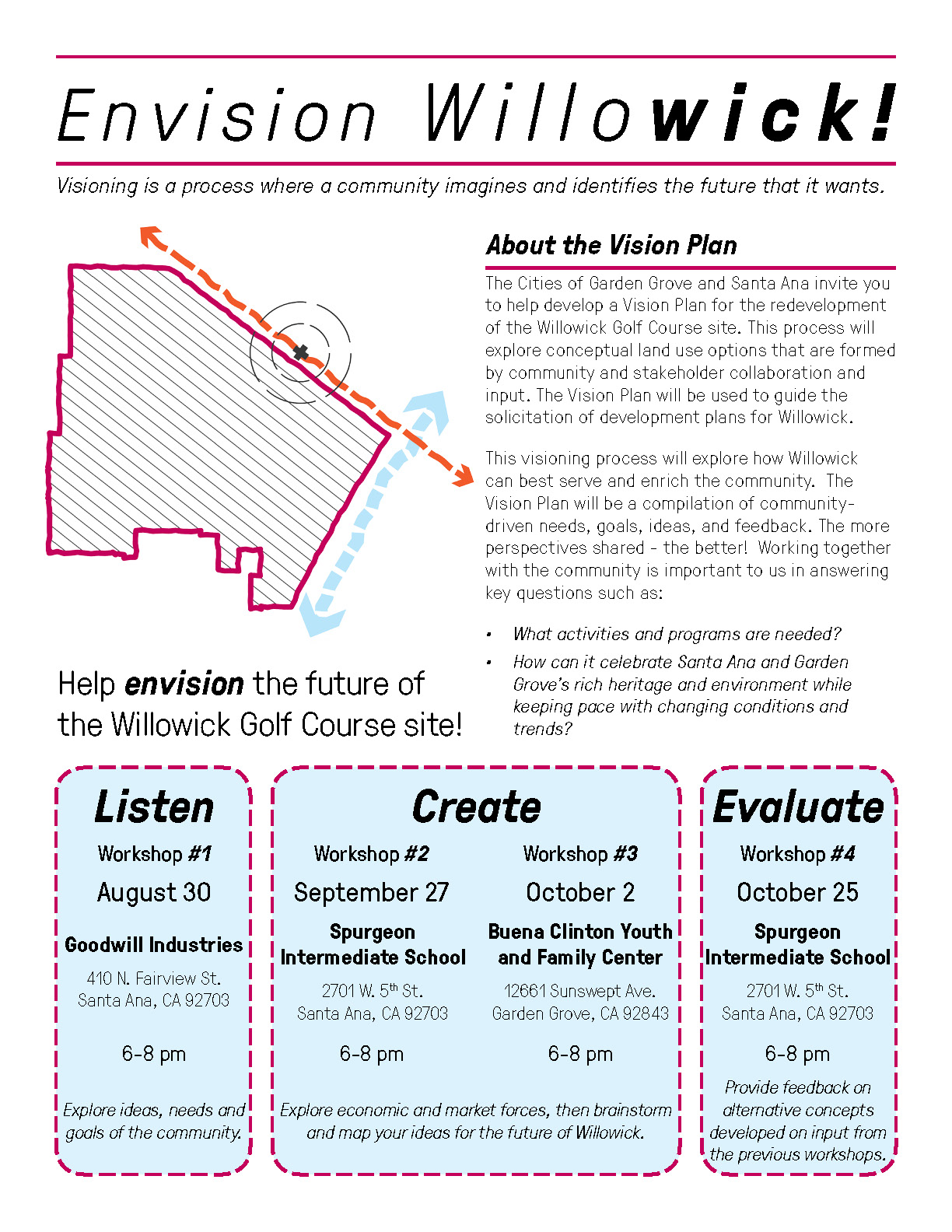 Facilitated by SWA, the selected visioning consultant, the Cities of Garden Grove and Santa Ana invite you to participate in the workshops to help envision the future of Willowick.
Workshop #4: Evaluate
Topic: Provide feedback on alternative concepts developed on input from the previous workshops.
When: October 25th, 2018
Time: 6:00 - 8:00 pm
Where: Spurgeon Intermediate School
2701 W. 5th St., Santa Ana, CA
Download Flyers
Workshop Presentations and Summaries
Register for Updates
Click Here to Register for Updates
OC Streetcar

Expected to begin operating in 2020, a streetcar (OC Streetcar) that will link the bustling Santa Ana Regional Transportation Center (SARTC), which provides regional rail, OCTA bus, and intercity and international bus services, to a new multimodal hub at Harbor Boulevard/Westminster Avenue in Garden Grove will be constructed. Along the way, OC Streetcar will connect directly with 18 OCTA bus routes. OC Streetcar will serve the historic downtown Santa Ana and Civic Center which includes government offices, federal, state and local courthouses, unique restaurants and shops, an artists' village, several schools and a variety of community enrichment organizations. OC Streetcar will increase transportation options and provide greater access along its 4.15-mile route (in each direction) along Santa Ana Boulevard, 4th Street, and the Pacific Electric right-of-way to Harbor Boulevard in Garden Grove. Along the route, a future stop at the Willowick site is planned.
To view more information regarding the OC Street Car, please click here.
OC Streetcar Route Map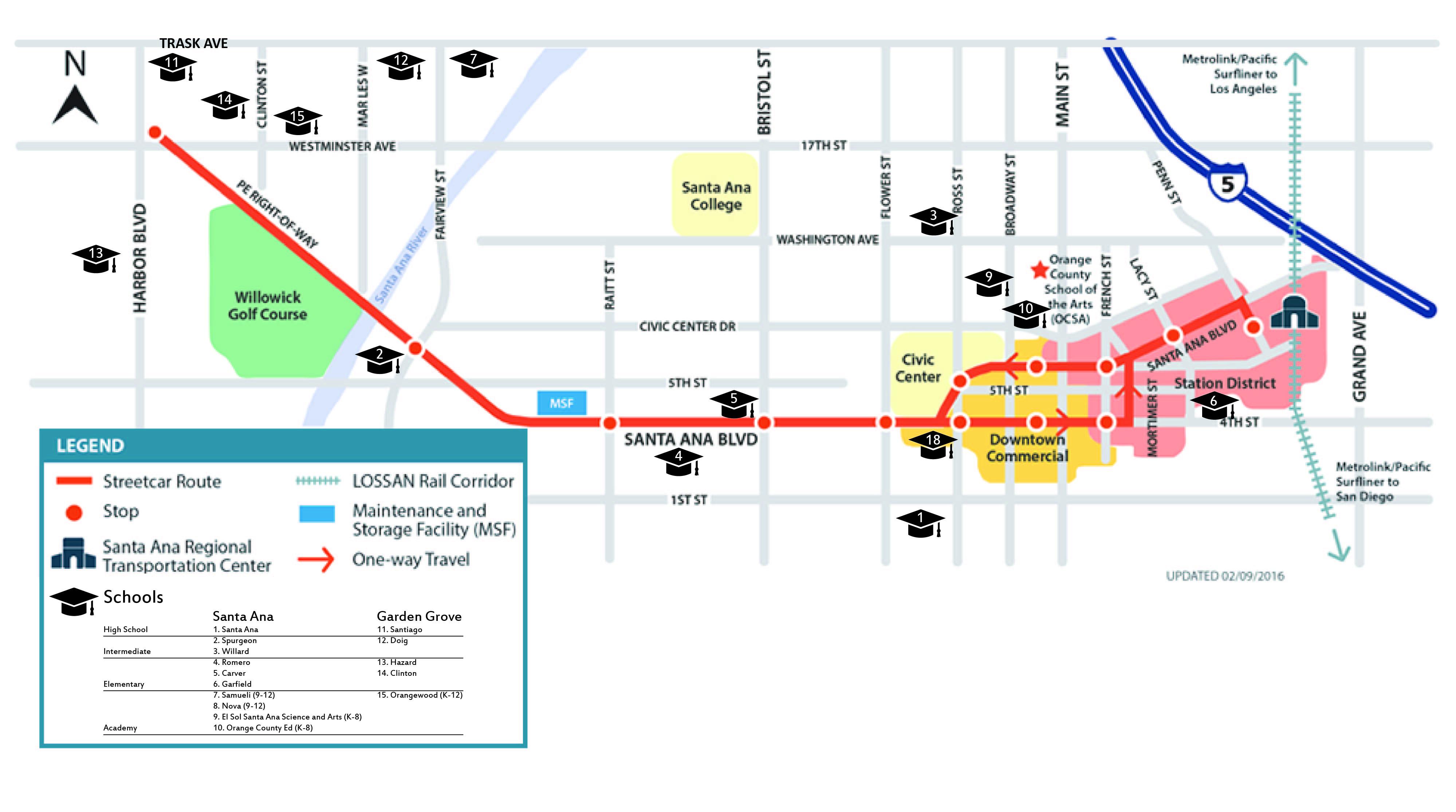 Land Use and New General Plan
To view more information regarding land use and the new General Plan for the Willowick Golf Course site, please visit Santa Ana's Planning Division page here.
News and Information