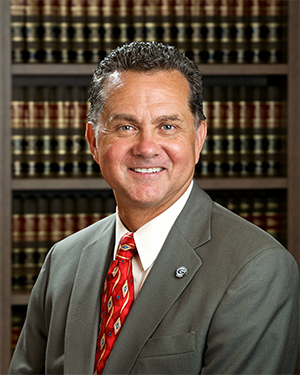 Scott C. Stiles, was appointed City Manager of Garden Grove, CA, on August 3, 2015, following a long career in city management with the City of Cincinnati, OH. He has more than 30 years of experience in public administration, community relations and management. In Garden Grove, Mr. Stiles leads a dynamic Executive Leadership Team in the operation of nine (9) departments employing 642 staff, with a General Fund operating budget of $119M and an all-funds budget of $226M.
Throughout his career, three core beliefs have influenced his passion for serving the public:
The community is why local government exists;
Innovation is imperative for excellence to be achieved;
Organizations have to be "in this together," collaborating internally and competing externally.
Much of Mr. Stiles' work in Garden Grove has been focused on strengthening public safety services, building transparency with the community, and investing in the City government's organizational infrastructure. That includes increasing the number of sworn and non-sworn police personnel, construction of the City's first new fire station in 45 years, ongoing implementation of a new financial system, renewed economic development and code enforcement activity, and the transition to a two-year biennial budget process.
Prior to his recent appointment in Garden Grove, Mr. Stiles served the City of Cincinnati in various roles since 1988, which included an appointment as the Interim City Manager from December 2013 thru September 2014. During that time he delivered a structurally balanced budget to City Council for fiscal year 2015, gained stable financial outlooks from rating agencies, and coordinated the attraction/retention of more than 4,900 City jobs, including the decision of General Electric to site one of their Global Operations Centers to The Banks riverfront. For more than two years, he led the City of Cincinnati's planning and coordination efforts in support of Major League Baseball's week-long celebration of activities culminating with the 2015 All-Star Game.
In 2005, Mr. Stiles was appointed Assistant City Manager, in support of the City Manager's work directing the day-to-day operations of the City. He has overseen the completion of Cincinnati's $145M renovation and expansion of the Duke Energy Convention Center, as well as historic Findlay Market, while transitioning both to private and nonprofit management. He led the City's effort to establish the award-winning Business Development and Permit Center, which offered streamlined building permit and development services; and he led the City Administration's effort to establish the first certified Tax Increment Financing Districts in Ohio. More recently, he coordinated the 2014 site selection effort for the District IV police headquarters project.
Mr. Stiles earned a Master's Degree in Community Planning from the University of Cincinnati, and a Bachelor of Science Degree in Journalism and Geography from South Dakota State University.
He is a credentialed member of the International City/County Management Association, Cal-ICMA, and the California City Managers Foundation. He currently serves on the Orange County Commission to End Homelessness, and he is an Advisory Member to the boards of the Garden Grove Chamber of Commerce and the Boys & Girls Club of Garden Grove. He is a past member of the national ICMA Government Affairs and Policy Committee (2003-2009), the local District Council Advisory Board of the Urban Land Institute, the University of Cincinnati Alumni Association Board of Governors, and the Cincinnati-Kharkiv (Ukraine) Sister City Program. He is a former adjunct faculty member at Northern Kentucky University.
Scott and his wife, Kelly, reside in Garden Grove with their two daughters.
Date Hired
August 2015
Education
Master in Community Planning, University of Cincinnati
B.S. in Journalism and Geography, South Dakota State University
Affiliations
International City/County Manager's Association