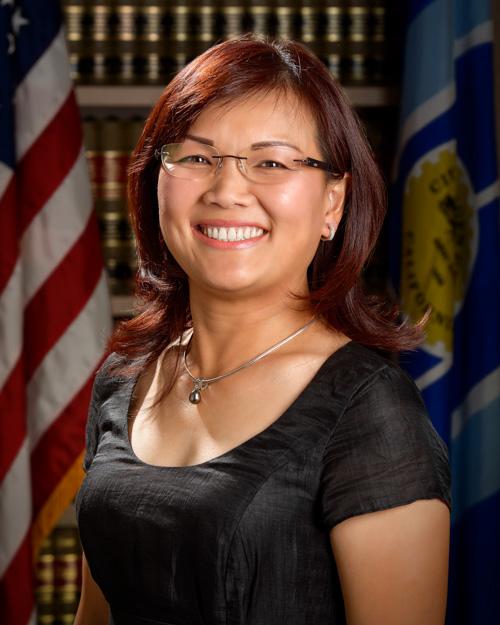 Mayor Pro Tem - District 3
Time in Office
Elected to City Council in 2016
City Hall Phone
(714) 741-5104
Email
thuhan@ggcity.org
Biography
Mayor Pro Tem Diedre Thu-Ha Nguyen was elected to the Garden Grove City Council on November 8, 2016. Born in Saigon, Vietnam, she has been a resident of Garden Grove since 1995, and stays actively involved in her community.
Mayor Pro Tem Nguyen works as a Supervisor for the Hematology Oncology Department at Quest Diagnostics Inc., Nichols Institute.
A lifelong Vietnamese community activist and voice for the Vietnamese community, Mayor Pro Tem Nguyen has also served as a board member for the Lunar New Year TET Parade/Festival, board member for the South Vietnamese Marines Charity Association, and Vice Chair for the 2013 Hurricane Haiyan, Philippines Fund Raising. Her professional affiliations include the American Society for Clinical Pathology CG(ASCP)CM, MB(ASCP)CM.
A second degree Hapkido Blackbelt, Mayor Pro Tem Nguyen is married with three children. Her hobbies include promoting youth leadership skills and mentoring various youth organizations, supporting her son's Taekwondo competition team, and enjoying motorcycling with her husband.
Community Goal
To keep Garden Grove a great place to live, work, and raise a family by improving public safety and strengthening critical public and government resources/infrastructure necessary to maintain and grow our city and communities. In addition, fostering collaboration among diverse relationships from Garden Grove business districts, arts and cultural heritage organizations, and youth organizations, in order to strengthen the involvement between various communities and city government.
Education
University of California, Irvine - B.S. in Biological Sciences
California State University Dominguez Hills - Master of Sciences, MS in Clinical Genetics
Clinical Genetic Molecular Biologist Scientist, California Licensed (CGMBS)
Clinical Cytogeneticist Scientist, California Licensed (CCS)
Regional Government/Committee Involvement
League of California Cities – OC Division, Alternate
Orange County Public Library Advisory Board, Representative
Community Service
Lunar New Year TET Parade/Festival, Board Member
South Vietnamese Marines Charity Association, Board Member
2013 Hurricane Haiyan, Philippines Fund Raising, Vice Chair
Birthplace
Saigon, Vietnam
Garden Grove Resident
Since 1995